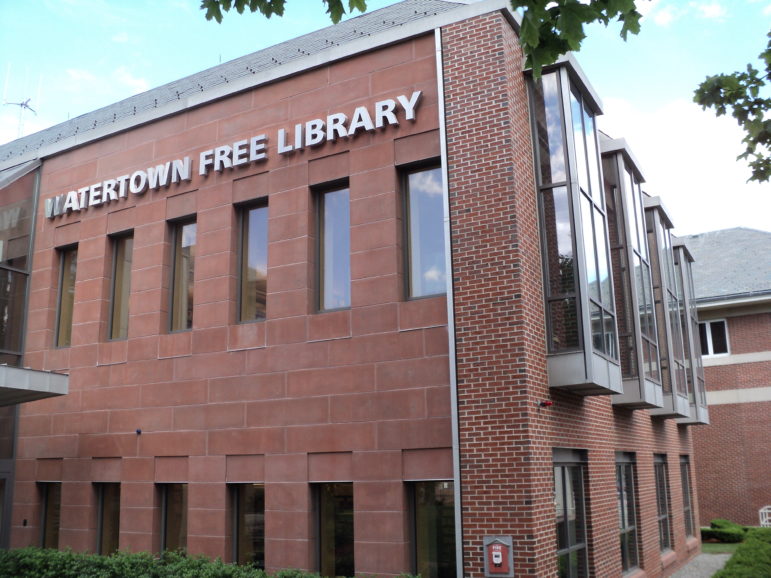 The Watertown Free Public Library may have closed during the Coronavirus outbreak, but that does not mean people can't access books, videos and music.
The Library has a number of ways to access ebooks, audiobooks, videos and more, and the staff has added more copies of popular titles. There is also content for kids, access to newspapers and magazines and information to medical information.
The following announcement came from the Watertown Library:
Here's what we're doing at the Watertown Free Public Library to keep you digitally connected to books and media while we're closed.
We've increased our digital collections.
We've purchased more copies of the most in-demand titles. You may not see that ebook you're waiting for immediately, but the additional copies will cut your wait time down.
We've purchased more titles that are available for Watertown residents first (these are called "advantage" titles in the Overdrive universe).
We've increased the number of hoopla titles available for download from 7 to 10 titles a month.
We've increased the number of Kanopy titles available for download from 3 to 5 titles a month.
We will evaluate the collection regularly and do our best to keep wait times down.
The Minuteman Library Network (MLN) is also making some important changes to keep access open. Please note some of these changes are in progress but the goal is to have them complete by the end of this week.
All books will not be due until mid-April.
Fine caps have been moved from $10 to $50 so that you are not blocked from using our online resources.
Expired or soon to expire library cards have been extended to an expiration date of May 31 so that you are not blocked from using our online resources.
What can you do?
The best thing you can do to help us and your neighbors is to only check out items that you are going to use, and to return those items when you are finished (if that is an option). Returning your titles before they are due means that the next person in line gets it faster.
Hoopla and Kanopy*
The library pays for everything you check out. This is why we have to restrict the number of titles our patrons can check out each month. If you check out items you don't use we're paying for it, but no one is getting the benefit of it. Save your check outs for items that you want so that we don't have to unnecessarily restrict items in the future due to funding. You do not have to return hoopla or Kanopy titles early.
*Kanopy has generously made all Kanopy Kids content free as well as offering a library of free titles from their collection. Thanks, Kanopy!
Overdrive
The library purchases copies for you to download, but only one person at a time can check out each copy that we buy. If we buy 10 copies of Harry Potter and the Deathly Hallows, it still means that only 10 people can read it even if there are 100 people in line. That means if you don't really want it, it's best to not check it out and leave it for someone who's really got a hankering for a Harry Potter fix.
How to Return Overdrive Content
You can return materials in several different ways.  The Libby app will prompt you once a book reaches 100% completion by asking "Finished?" when you view the title on your Shelf.  The browser version of OverDrive has a "Return" button below each title in your Loans.  In the OverDrive app, press and hold on the cover of a title and select "Return to library."  Checking out Kindle books?  You can return Kindle books from your Amazon account under "Manage Your Content and Devices."  OverDrive has a guide on how to complete the process.
Here is more information about the resources available through the library:
READ, LISTEN, WATCH
OverDrive/Libby: Check out ebooks, audiobooks, and magazines from home.
Hoopla: Instant access to music, audiobooks, ebooks, comics, TV shows, and movies. *Plays have been increased from 7 to 10 per month, with no wait lists.
Kanopy: Stream movies and documentaries from home. *Plays will be increased from 3 to 5 per month, effective March 18. Plays are unlimited for select films. Kanopy Kids plays are now unlimited through April 16.
NoveList: Running out of things to read? Use NoveList for suggestions!
STAY INFORMED
New York Times Digital Access: Stay up-to-date on news with NYT digital access.
RBDigital: Check out magazines from home including The Economist, The New Yorker, National Geographic, Conde Nast Traveller and more.
KEEP THE KIDS BUSY
Sesame Street Ebooks: Snuggle up with your favorite characters and learn letters, counting, and more.
TumbleBooks: Practice reading together with animated & narrated picture books from TumbleBooks.
Scholastic Learn at Home: Scholastic is providing free lessons; login information provided on site.
Kanopy Kids: Streamcarefully selected videos that include award-winning movies and TV series, classic films, and family-friendly documentaries *Kanopy Kids plays are now unlimited through April 16.
LEARN
HeritageQuest Online: Do you have time for a little research? Explore the history of your family.
Lynda.com: Learn a new skill while you're stuck at home with Lynda.com.
Instructables: Missing HATCH while we're closed? Check out the projects in Instructables for inspiration.
MIT OpenCourseWare: Colleges may be closed, but MIT has courses at undergraduate and graduate levels for you to explore at home.
Britannica School Edition: Explore topics and concepts for students in PreK through 12th grade.
Mango Languages: Brush up on your language skills with Mango and learn to say hello in over 70 languages.
STAY HEALTHY
MedlinePlus: Curious about medical topics?  Check out Medline Plus for the science behind medical tests, prescriptions, and more.
Gale Health & Wellness: The Gale database has a section dedicated to Coronavirus information.