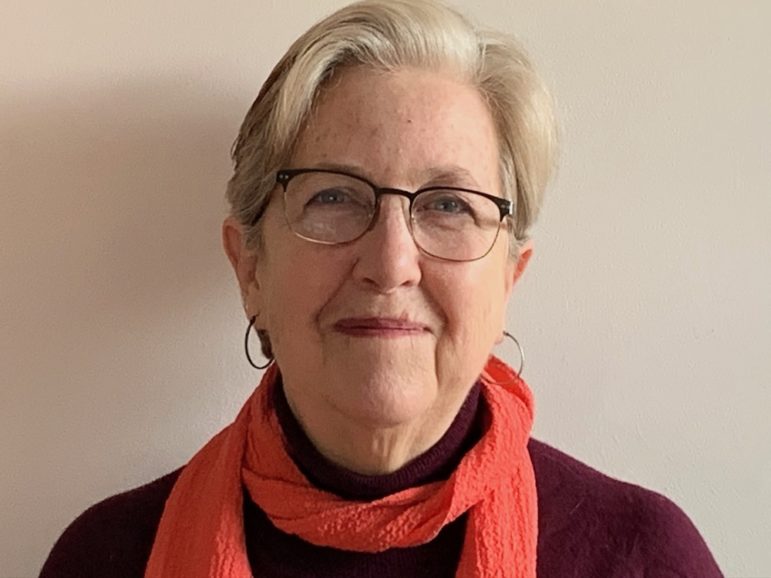 Tell people about your background — family, professional background, volunteering, government, activism — and how that will help you as a Town Councilor.
My husband DeWitt and I have lived in Watertown for more than 40 years, raising our family and now having our grandchildren attend Watertown Public Schools. During that time, I have been a volunteer locally for the arts, the environment, education and equity, including serving as a board member on the Arsenal Center for the Arts (now the Mosesian), YardArt and Watertown Arts Market, and the Kingian Response Team. I have also worked on various political campaigns and participated in our municipal meetings.
My professional experience began when I was a work-study student at college, working in after-school programs. I knew then that I wanted to become a teacher. I began in Headstart and was an elementary teacher and administrator for many years. Mathematics education became a passion of mine as it has traditionally been taught in a way that is not successful for many students. I recently retired from Boston Public Schools, where I served as the Assistant Director of K-12 Mathematics, and currently teach a course for emerging teachers at Boston University.
Both my volunteer and professional experience have helped prepare me to be a successful councilor. I am an experienced problem-solver, able to listen well, research an issue, synthesize different perspectives, and implement solutions collaboratively. I am also positive, empathetic, and energetic.
The pandemic has created some trying and difficult times for residents and along with that for local government, and in other towns elected and hired officials have stepped down. Why during these challenging times did you decide to run for office? And with a robust group of candidates running in 2021, why do you think Watertown has so many people stepping forward to serve?

I am running for District D Town Councilor because I am passionate about ensuring Watertown as a vibrant and welcoming community. I am running for everyday things, such as walking, driving and riding safely, that impact the quality of life in our community. My grandchildren inspire me to look towards the future, and I will work as a positive force, advocating for the town to grow responsibly while maintaining its sense of neighborhood, embracing our diversity as its strength, and committing to robust local actions to address climate issues.
I am glad many people have decided to be candidates for local office. I think many people are running now because it is a time for engagement, dialogue, growth and action.
Being a new town manager is difficult enough, but following such a long-term and successful Town Manager will be a tough task. What do you look for in the new manager and how will you, as a councilor, help the new Town Manager get established and be successful?
Hiring a new Town Manager will be a critical decision for Watertown. Clearly fiscal responsibility is key to the town's future, and the new Town Manager must have financial expertise and experience. Importantly, the Town Manager needs to be an able supervisor, supporting the department heads by conveying high and clear expectations. In addition, the town manager needs to be collaborative in order to partner and work effectively with the Town Council and to have strong communication skills to best engage with the community.
Do you think the voters should pass the changes to the Town Charter? Explain why you feel that way.
The involvement of many more residents during this review of the Town Charter has been exciting and I support the changes to the TownCharter (and will vote Yes!). The dedicated work of Watertown Forward in collaboration with the Charter Review Committee was very inspiring and has resulted in many positive changes to the charter. These include concrete ways to ensure greater accountability, communication, and transparency with the community, a balance of power between the Council and the Manager, and a provision to establish a Human Rights Commission, and a preamble that highlights our guiding principles.
Police funding and the services provided by the Watertown Police have become a big topic of discussion. Should the funding be increased, decreased or is it just about right? And, would you like to see how the Police in Watertown operate (please explain your answer)?
I support full funding at the current level requested by the Watertown Police Department. Community policing is a priority for me. I appreciate the hard work and commitment of our police officers in "protecting and serving" those that live and work in Watertown, and at times generously going beyond to support residents that might be in need. Of course, part of public safety involves our firefighters, who also deserve our appreciation and funding, as do all those that provide mental health support, especially during this pandemic. Feeling safe is a priority for us all. While many of us feel very safe, some of us do not, and it is important for all institutions and members of our community to work towards that goal.
Looking ahead, there may be a need to increase funding for training as the state police reform bill goes into effect.
What issue in Watertown that might not be getting enough attention would you want to work on as a councilor, and how would you like the Town government to address the issue?
I believe that civic engagement is key for a healthy, growing community. We have many people that have lived in Watertown for their entire life and others that are new to Watertown. We have home-owners and renters. All have important perspectives to offer and we need to encourage multiple ways to be involved in our community. A community engagement officer will be wonderful addition to increasing community involvement. However, we as a Town Council, individually and collectively, should be actively involved in responding to, communicating with, residents so that they feel connected to our town government and our community.
Watertown has taken a lot of steps to become more green and to address climate change. Do you think the Town has done enough, or would you like more to be done — if so what would you like to see?
First, I commend the town's leadership and citizen advocates in acting locally to address climate issues and applaud the work done so far, such as Net Zero Schools, renewable energy options, and the new shuttle along Pleasant Street. There is more work to be done, and I support a climate action plan that is robust in its implementation, with enforceable metrics and milestones. I support measures such as switching to electric governmental vehicles, adopting a net-zero, non greenhouse gas emissions stretch code, improving walking and bicycling infrastructure, using state programs to assist and subsidize homeowners to transition away from fossil fuel use, increasing the planting of shade trees, and requiring green choices from new developments, I also support the acquisition of green spaces, such as Walker Pond property.
I have been involved with environmental work for many years. I was a founding member of Watertown Citizens for Environmental Safety (WCES) responding to concerns of safety regarding a then active nuclear reactor in Watertown. I was active in the Recycling Initiative and working with MassPirg, was a lead plaintiff in a case regarding the Bottle Bill petition. I have continued to actively support environmental issues and ways that we as a community can act. I am proud to be endorsed by the Watertown Chapter of 350 Mass Action.
What is something that people may not know about you that residents would find interesting?
I never saw snow until I was 18 years old. Growing up in Miami, I would try to imagine it as a young child, even squinting my eyes at ice in our family freezer. My first snow was an early blizzard in college and it was pretty dramatic. I still love the first snow of the season, the way a big snowstorm quiets the world and feels cozy (except for the shoveling of course).