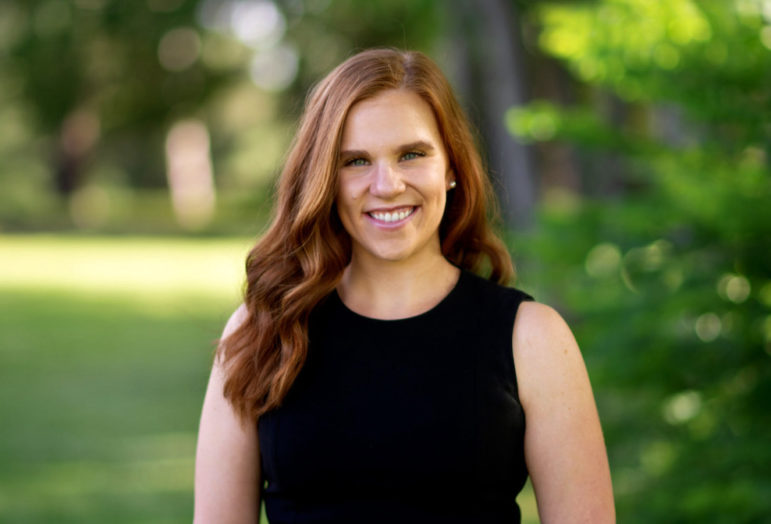 Tell people about your background — family, professional background, volunteering, government, activism — and how that will help you as a Town Councilor. 
I grew up in the West End of Watertown. I went to the Cunniff Elementary School, Watertown Middle School and Watertown High School, and I graduated in 2008. I went to Assumption College where I majored in Political Science & History and minored in Sociology. After college I began working for State Representative John Lawn who represents District D. I served as legislative aide and later became chief of staff and I was able to assist residents with health insurance, unemployment and advocate for more funding for Watertown in the state budget. While I was working at the State House my passion for public service truly began and to further my education I attended New England School of Law in the evenings while working full time and I graduated and passed the Massachusetts Bar Exam in 2017. I currently work as a Municipal Finance Law Attorney where everyday I assist any number of cities and towns throughout the Commonwealth with legal advice on how to spend their revenue and provide guidance on how to best run a municipality. I am also a current member of Watertown Library's Board of Trustees. I have loved serving my community in this capacity and have been impressed with some of the great work the Board has done including being one of the only libraries in the area to stay open during the pandemic. I would love to be able to take my passion, experience and expertise and serve the community I am so proud to be a member of in a larger capacity.
The pandemic has created some trying and difficult times for residents and along with that for local government, and in other towns elected and hired officials have stepped down. Why during these challenging times did you decide to run for office? And with a robust group of candidates running in 2021, why do you think Watertown has so many people stepping forward to serve?
I think many people are starting to see how great it is to participate in the political process, especially at the local level. I have been inspired by so many Watertown residents during the pandemic, including my own sister. My sister, Mary is a special education teacher at the Hosmer, and even last year when many students were still learning remotely her and her fellow special education teachers went in everyday wearing scrubs so they could provide the best education to those who could not effectively learn remotely. I also saw the volunteers at the Watertown Food Pantry put together large food drives for those in the community who were food insecure. I saw our frontline workers go to work and help residents, including some of our own first responders here in Watertown when I took my grandmother to get her vaccine at the police station. While the world seemed to stop, many could not stop working and had to show up for everyone else. These stories have continued to inspire me to serve in the way I would best be able to and that is through public service. I loved the constituent service work and the civic activism I saw while working at the Massachusetts State House. I would be honored to take this passion and dedication by being a strong advocate and fighting hard for District D and all of Watertown.
Being a new town manager is difficult enough, but following such a long-term and successful Town Manager will be a tough task. What do you look for in the new manager and how will you, as a councilor, help the new Town Manager get established and be successful?
I think we need to find a Town Manager with the requisite financial skills to keep the town running as smoothly as possible. We all have seen the amazing work Mr. Driscoll has done, three brand new schools and the total renovation of a fourth school all without an override is incredible. We also have a fully funded pension system. We need to find someone who is going to be able to keep the tax rate as low as possible while still providing a full array of services. I would also be interested in a Town Manager who is going to be accessible and accountable to the voters and the council and keep an open line of communication with all residents of Watertown. As well as someone who will be a strong advocate for town employees. I would help them be successful by working as a team to accomplish any task so that we all succeed as a town.
Do you think the voters should pass the changes to the Town Charter? Explain why you feel that way. 
I think there has been a lot of hard work that has gone into the Town Charter. There were a record number of members on the committee, and many meetings. The biggest substantive changes include eliminating the residency requirement for the new Town Manager and the ability to hire more professional staff. Also, the charter calls for the establishment of a human rights committee which is a great addition to town. The proposed changes would allow for more transparency and shows Watertown's dedication to more inclusion.
I think there are many great changes that are proposed. Voters have many resources to familiarize themselves with all the charter changes which are available on the Clerk's website.
Police funding and the services provided by the Watertown Police have become a big topic of discussion. Should the funding be increased, decreased or is it just about right? And, would you like to see how the Police in Watertown operate (please explain your answer)? 
I think the Watertown Police do a great job. They were just reaccredited, and had to meet many professional standards and speaks to accessibility and accountability. The Citizens Police Academy is a great way for members of the community to see the work the police do and encourages citizen-police interaction. I believe the police need to remain fully funded. We are in the middle of an opioid epidemic and we must ensure no lives are lost due to cuts in public safety. We also have a growing population in town, and our residents and those passing through deserve the highest level of public safety. Police reform at the state level is coming and we will need to continue to invest in our police to ensure they have the proper training, and education to meet the standards that are required of them.
As we saw at the Public Safety meeting on October 19th , the police have shown a commitment working with the community and are continuing to analyze data by working with MIT. The police, like any department should be held to the highest standard. We must continue to invest in social workers and increased mental health services and commit as a community to work to make the criminal justice system unbiased and ensure that it treats everyone fairly. And we need to make the entire criminal justice system more proactive, but this work should not come at the expense of an essential department.
What issue in Watertown that might not be getting enough attention would you want to work on as a councilor, and how would you like the Town government to address the issue?
Watertown will be receiving around $7 million in ARPA funds (American Rescue Plan Act). This round of funding is fairly flexible. The intent of the legislation is aimed at reduced revenue as a result of the pandemic. We must ask ourselves, who were those that suffered the most during the pandemic? The answer to this seems to be small businesses, local restaurants and front line workers. But I am sure there are many stories of those that struggled during the pandemic and we should have public hearings and allow as much input as possible on how these funds should be allocated.
Also, there is an education gap that has only grown larger due to the pandemic. Students from more affluent families who had the technology, stable internet access, and additional resources including a parent or parents who could stay home and help to create a positive learning environment were likely able to succeed academically. Many students who are from lower income families who did not have the extra resources or parents who could stay home with them, likely fell behind due to the pandemic. We must ensure we close this education gap so that not child is left behind due to their financial status.
Watertown has taken a lot of steps to become more green and to address climate change. Do you think the Town has done enough, or would you like more to be done — if so what would you like to see?
I think as long as it is feasible, we should be moving as quickly as possible to move our goals of zero carbon emissions up and make it closer to the U.N.'s goal rather than the state goal. Climate change is here and it's happening. We just had one of the hottest summers on record. We have to continue to take bold action to combat this crisis. Watertown has been a leader in environmental issues and we have been a green community since 2010, and in 2018 the Council passed a mandate requiring solar renewable energy on new commercial buildings. The Cunniff and Hosmer and likely the High School are all net zero which is incredible. We should continue to come up with ways to be even greener and move away from fossil fuels as quickly as possible. We can expand our energy management department, and we need to encourage sustainable behavior by making the greener choice also be the more financially prudent choice. Watertown should also address climate change through transportation where developers should increase the number of electric charging stations, expand shuttle services and extend blue bikes into District D.
I also have a tree protection initiative I would like to see implemented. Where every one tree that comes down, another tree must go up either in the same place or somewhere else in town.
Every tree that is planted increases the quality of live for a neighborhood. One of my favorite interactions while I have been out knocking on doors has been with a resident who liked this tree protection initiative except he recommended that for every one tree that comes down, two trees go up. I think by working on finding new, innovative and creative solutions we can all work together to slow climate change and leave the planet a better place for future generations.
What is something that people may not know about you that residents would find interesting?
I love to run, and practice yoga. I completed the 2019 Boston Marathon and ran and raised $6,500 for Squashbusters which is an organization that challenges and nurtures urban youth – as students, athletes and citizens – so that they recognize and fulfill their greatest potential in life.
I also love to read, and am a member of 2 book clubs. I do not have just one favorite book, but I would say the Harry Potter series has always been one of my favorites