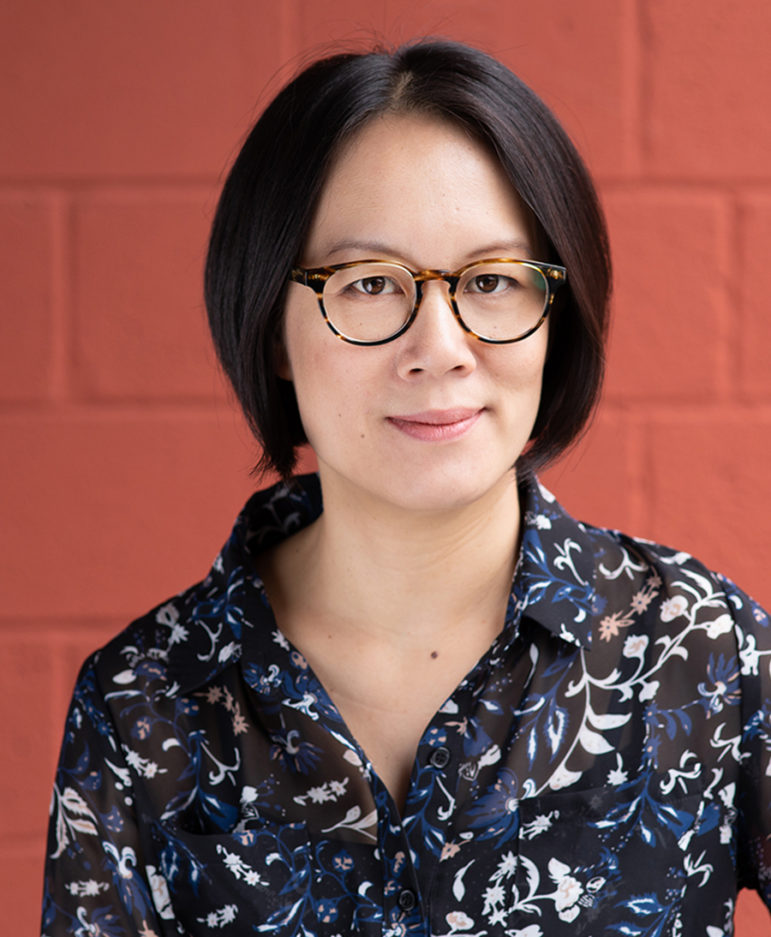 Tell people about your background — family, professional background, volunteering, government, activism — and how that will help you as a Library Trustee?
I am a building engineering consultant with a specialty in acoustics for the last 20 years. I live in the East End with my husband, our 2-year old son, and a rescue dog. This is my first involvement in politics.
Most of my volunteering activities have been related to the Architecture/Engineering/Construction (AEC) industry in the last 20 years, such as events organized by the Acoustical Society of America, Habitat for Humanity, and the Boston Society of Architects.
Since we moved to Watertown in 2015, I have volunteered at the WFPL Hatch Makerspace, and hosted bi-annual children's clothing swap at the library.
With almost 20 years of extensive professional experience in the design of institutional spaces including the Cambridge Public Library and several Boston Public Branch Libraries, I can help WFPL expand their services and reach more of our community. The library is more important than ever as an institution that is accessible for all!
What is your favorite thing about the Watertown Free Public Library?
The administration and staff at the library is fantastic and they constantly identify ways that the library can expand in programming and engage with the community. Hatch maker space is one of the greatest new ideas that came out of the WFPL, where I learned how to sew and make some of own clothes. I just love that a space from the library can spark new interests and help us expand on our capabilities. Other cool offerings include the Library of Things which includes mixers and tennis racquets.
How did you decide to run for the Board of Library Trustees, and why do you think the board plays an important role for Watertown residents?
Along with key staff members and current Board of Trustees, in 2020 and 2021 I helped develop the new strategic plan for the WFPL. We met monthly to discuss the vision and mission of the library, along with ways to achieve these goals. Under the current Trustees encouragement, I decided to run for the Trustee position.
The board plays an important role in securing funding from the city, as well as assist in fundraising and operational challenges when this is needed. It provides an advisory role to the administration when this is needed. The board also plays an important role in gathering community support and build good public relations to help the staff in achieving their goals in running a better library.
What is the most pressing issue facing the Watertown Library? 
One of the pressing issue facing the Watertown Library is making sure that the library is a welcoming space for everyone and provides equal access. Recently the library added charging stations outside of the building so that anyone can charge their electronics while seated outside, and the wi-fi is also free and available to all patrons.
Watertown has many residents who have moved to the area from outside the United States, many of whom do not speak English as their first language. What can the Watertown Library do to help these residents, and how will you find out what types of services they want from the library in their new hometown?
The notion of a public library as a space that is open to all is pretty universal, and many people naturally gravitate to live around the library so that they can access it by foot regardless of where they are coming from.
WFPL has as core group of volunteers under Project Library that offers English speaking classes as well as US citizenship test-prep classes. In addition, there are many foreign language reading materials in our library, and additional resources can be borrowed through our Minuteman Network.
WFPL is constantly thinking of ways to reach out to the more insular apartment complexes popping up in our neighborhoods. We believe that proper outreach to these communities is important in promoting the awareness of the services available at the library. This is why recently WFPL hired a staff dedicated to outreach efforts.
What is something that people may not know about you that residents would find interesting?
I have been a rock climber almost as long as I have been working. Although at the moment we are busy raising our 2-year old son, we do enjoy connecting with nature and scaling the rocks up in New Hampshire.