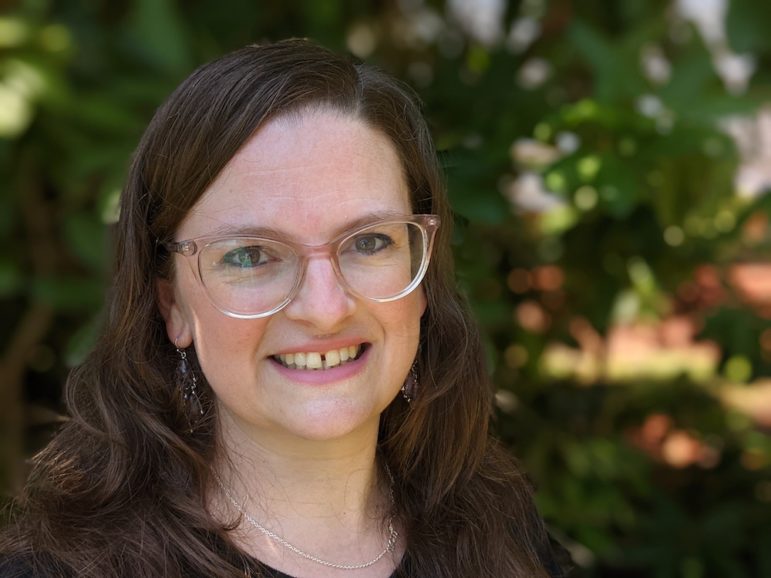 Tell people about your background — family, professional background, volunteering, government, activism — and how that will help you as a School Committee member.
Education has always been an integral part of who I am. I grew up the child of international educators and school leaders. I moved to Watertown 12 years ago, with my partner David, and we are the proud parents of two children in third grade and kindergarten at the Cunniff. I have served on the Cunniff School Site Council for the past 4 years, am a member of the Cunniff Diversity and Belonging Council and the WPS Anti-Bias Coalition. A school mental health counselor for nearly 20 years, I hold a Master's Degree in Risk and Prevention and a Certificate of Advanced Study in School Adjustment Counseling from Harvard Graduate School of Education. I have been a Behavior Specialist in the Cambridge Public Schools for the past seven years, and recently switched roles to become the School Adjustment Counselor at the Martin Luther King, Jr. School.  
How can the Watertown Schools help students catch up and make up the learning opportunities they lost during remote learning over the past couple school years?
I applaud what WPS has done to follow the state's recommended learning acceleration plan. A focus on meeting kids where they are, the creation of WIN — "What I Need" — blocks to address their individual needs, and a focus on data collection and analysis are all fantastic places to begin. I also believe that we need to focus on the social-emotional well-being of our students right now: Kids can't learn well if they aren't safe, supported, and settled. As a school counselor, I see first hand how hard teachers work to help students learn and retain routines, make positive social connections, and remember (or learn for the first time) what it feels like to "be" in school. We must continue to make social-emotional learning and mental health a priority for all students.
Watertown will soon have three new schools, and a fourth renovated and expanded, giving the district state-of-the-art facilities. How can the Watertown Schools provide the type of education that matches the top-of-the-line facilities?
Watertown students are already receiving a "top-of-the-line" education. Our teachers are committed, talented, and dedicated to providing rigorous and joyful learning experiences for our students. There are, however, always areas for growth: ensuring all curricula are up to date and based on the most current educational research, updating hiring and retention practices so our school staff reflects the diversity of our student body, and continuing to provide high quality professional development to support co-teaching, differentiation, and Universal Design for Learning.
Recent national events have increased the focus on how schools teach history and other subjects. Some call for including more diverse perspectives in lessons, while others want to make sure that the history that they, and previous generations of students, remains in the curriculum. While the School Committee does not set the curriculum, it has some influence in the direction the Watertown Public Schools takes. How would you like to see the Watertown Schools approach issues of history and social studies?
I stand with confidence behind the educators in WPS to treat their students with intellectual respect, and I fully support teaching that is historically accurate. To deny that race has played a large role in the story of our country is not historically accurate. We need to have the courage to look at our history from multiple perspectives to ensure our WPS graduates enter the world with robust critical thinking skills. Without these skills, they will be at a disadvantage as adults. I will work to make sure that our resources (including the purchase of textbooks and informational material) reflect the diversity of identity, experience, and opinion that is a hallmark of our town. Inclusive curricula help all students to see themselves and celebrate their unique contributions to the American story. That's the kind of transformative uplift that we are capable of inspiring in Watertown, and I will always stand behind policies that move us in that direction.
Watertown students have not been able to gain access to Minuteman High School and its vocational and other programs since the new school opened. How should Watertown ensure that students seeking this type of education have access to it? Should Watertown become a member of the Minuteman District, add programs in the WPS, or make partnerships with other vocational schools in the area (or a combination)?
I am in full support of student access vocational programming, and I am aware that the options available at the moment are not sufficient to meet the needs of our students. I know many Watertown parents attended Minuteman when they were growing up and would love for their children to have the same opportunity. I also believe it is important that we offer vocational opportunities in town for students who want to remain at WHS. Ideally, we would have a partnership with Minuteman while still offering Chapter 74 programs in town. I am committed to exploring all the options and developing a plan that affords the most options for the most students.
For over 35% of students in the Watertown Schools their first language is not English. They speak dozens of languages and are from many countries around the globe. How can Watertown make these students and their families feel welcome, and make sure their needs are being addressed?
This is an area where we still have work to do. I would like to explore expanding our family liaison program. These are currently mostly volunteer staff people who reach out to families and help connect them with resources and to navigate our school systems. I would love to see this program expanded to include a paid liaison at each school, who could provide outreach, translation services, and include families in school events. Our school Diversity and Belonging Councils, which are all quite new, can also be leveraged to help all families feel included in our school communities. I would love to see the work of these important groups be expanded, and to ensure there is a common through-line of the work across all schools.
What is something that people may not know about you that residents would find interesting?
I was once on an episode of Carpool Karaoke with Giselle Bundchen and Boyz II Men (who sang to me). It was an amazing brush with fame!