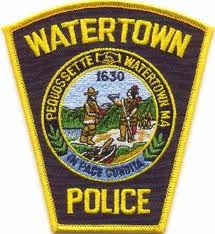 The following information was provided by the Watertown Police Department. An arrest does not indicate a conviction.
Arrests
April 3, 10:31 p.m.: A driver spotted a car driving erratically on Walnut Street and noticed one of the tail lights was not working. The driver followed the car as it got onto Arsenal Street, drove into Boston, came back down Nonantum Road and drove onto California Street. Police pulled the erratic driver over and noticed that she had an empty plastic Bud Light cup on her seat. Police also found a small amount of marijuana. An odor of alcohol was detected and the officer administered field sobriety tests. The 47-year-old Framingham woman was arrested on charges of driving under the influence of alcohol and an equipment violation.
April 4, 11:59 a.m.: Police were called to the Watertown Free Public Library for a person they knew was wanted on a warrant. A 33-year-old Dorchester man was arrested on a warrant from Waltham District Court for assault and battery and larceny under $250.
April 4, 4:03 p.m.: Watertown Police were alerted by the officials at the Waltham District Court that a man wanted on a warrant was spotted in Watertown. Police went to the home and arrested the 44-year-old Watertown man on a warrant for violating a restraining order.
[ad]
Incidents
March 31, 1:39 p.m.: Security at Target spotted a 78-year-old Newton woman cutting the security band off a wrist watch worth $179.28. Store security will deal with the incident internally.
April 1, 3:20 p.m.: A 54-year-old Chelsea woman was spotted taking a tablet device and put it under her pocketbook in her carriage. Security also found a headphone signal splitter. She will be summonsed to Waltham District Court for shoplifting.
April 2, 9:55 p.m.: A man went to workout at Boston Sports Club and left a bag in a locker and locked it up. When he came back he found the lock was cut off and an iPad and Bose headphones were missing.
April 2, 10 p.m.: Someone smashed the window of a car parked at GymIt between 9 p.m. and 10 p.m. A backpack was taken from the car.
April 3, 12:06 p.m.: Home Depot security spotted a man they knew had a history of shoplifting in the store. He was trying to take 11 rolls of electrical wire. The 44-year-old Dorchester man will be summonsed to Waltham District Court for larceny over $250.
April 3, 10:45 p.m.: The owner of a 2014 Lexus found that someone had keyed the passenger side of the car while it was parked on the street.
April 5, 10:10 a.m.: A guest at the Super 8 Motel reported that a $700 pair of Gucci sneakers were taken from the room.
April 5, 11:42 p.m.: A cab driver picked up a man in Watertown and drove him to Cambridge and other places. When they got back to town, the passenger said he didn't have the money but would make good over the next couple days. The man never paid so the driver called police. A 41-year-old Watertown man will be summonsed to Waltham District Court for larceny of services.
April 5, 9:14 p.m.: Two cellphones – a Samsung Galaxy Note 3 and a Samsung Galaxy S4 – were taken off the display stand at the Sprint Store in the Arsenal Mall.