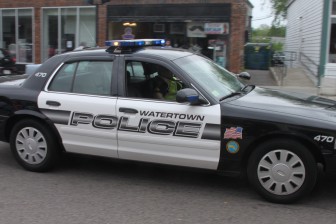 The following information was provided by the Watertown Police Department.
Arrests
May 21, 10:07 a.m.: Police arrested a 33-year-old Watertown woman on a charge of domestic assault and battery, and officers found a bottle with 27 pills that did not belong to her. She was also charged with possession of a Class E drug.
May 21, 7:19 p.m.: Security stopped a suspected shoplifter and the man fought security when they tried to detain him. He continued to fight when police arrived and tried to arrest him. The man was caught with two PlayStation3 controllers and two sets of Legos, for a total of $214.81. They also found merchandise stolen from Old Navy worth $126.54. The 27-year-old Boston man was arrested on two counts of shoplifting, one count of disorderly conduct, and one count of assault. He also had three warrants for his arrest.
May 23, 6:49 p.m.: A women entered Target, and filled a carriage with $245.77 worth of merchandise and tried to leave. The 39-year-old Newton woman was arrested on a charge of shoplifting.
May 23, 10:27 p.m.: Police arrested a 31-year-old Watertown woman on charges of domestic assault and battery and intimidating a witness.
May 25, 2:19 p.m.: An officer watching for speeders on North Beacon Street saw a car speeding and clocked the driver at 60 mph. The vehicle was pulled over and the officer detected an odor of alcohol on the driver's breath. A field sobriety test was given and the 29-year-old Waltham man was arrested for driving under the influence of alcohol and speeding.
May 25, 6:11 p.m.: A woman was spotted placing women's clothing into a bag. The woman had $225.85 worth of items. The 18-year-old Cambridge woman was arrested for shoplifting.
Incidents
May 20, 6:28 p.m.: Two flower urns were broken at a home on Capitol Street.
May 20, 11:46 a.m.: A car was vandalized on Dana Terrace. The antenna was broken off and both passenger-side tires were flat.
May 21, 5:49 p.m.: A person was spotted taking 3 DVDs and putting the under a bag in the carriage. A 44-year-old woman from Newton will be summonsed to Waltham District Court for shoplifting.
May 23, 3:50 p.m.: A dog walker visited a home on Maple Street and while she was out someone broke in and took jewelry, costume jewelry and some prescription medicine. Some of the cabinets in the home were damages when they were pried open.
May 24, 3:50 p.m.: A couple was spotted at Target putting merchandise into a cart and tried to leave. They had 59 DVDs worth a total of $1,426.21. A 22-year-old man from Watertown was summonsed to Waltham District Court for larceny.
May 24, 4:01 p.m.: An employee at Stride Rite went into the stock room and found a man standing there. The man was described as a tall black male in his 40s. He was faking like he was talking on the phone When she asked what the man was doing back there he ran away. The employee then realized that she was missing $160 in cash.
May 25, 3:53 p.m.: The door of a vacant home on Sexton Street was forced open by nothing appeared to be missing.