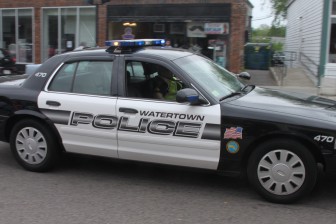 A pair of home break ins – including one where a homeowner woke to find a man in his living room – may be linked, according to Watertown Police.
Both of the incidents took place in the neighborhood near the Lowell School.
On Aug. 18 at 9:29 a.m. a Standish Road resident reported an attempted breaking and entering to his home, said Watertown Police Lt. Michael Lawn.
"The resident found a rear sliding door and screen door opened and pry marks on a basement door," Lawn said.
A 1980s Dean Flying V guitar was missing from the home. A neighbor said the previous night around 1:30 a.m. he spotted a man walking down the street carrying a black guitar case. The suspect is described as between 5-foot-8 and 5-foot-10, husky and bald.
On Aug. 22, a York Avenue resident woke up when he heard a loud crash in his home.
"He went down and saw a large male standing in the living room," Lawn said. "The man said 'Oh my God, I am in the wrong house.'"
The man had entered through a first floor window. The suspect is described as a white male, about 40 years old, 5-foot-8, with a stocky build and a bald or shaved head. He was wearing a white and orange button-down shirt, Lawn said.
Police are investigating the incidents. Anyone with information can call 617-972-6500.