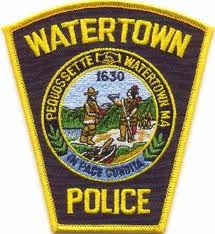 The following information was provided by the Watertown Police Department.
Arrests
Nov. 12, 1:43 a.m.: An officer parked on Mt. Auburn Street at Arlington Street spotted a vehicle driving about 45 mph in a 30 mph zone. The officer pulled over the driver on Palfrey Street. An odor of alcohol was detected on the breath of driver. Field sobriety tests and the 37-year-old man from Cedar Park, Texas, was arrested for driving under the influence of alcohol and speeding.
Nov. 12, 5:31 a.m.: FBI agents came to the Watertown Police Station with an arrest warrant for a Watertown man. The Watertown Police served the warrant on the Arsenal Street resident and turned him over to the FBI.
Nov. 14, 5:40 p.m.: A man was seen taking two external hard drives from Target and put it in a bag and left the store. Police arrived and when they approached the man he ran, but was caught. They also found he had three Microsoft Surface keyboards that came from Best Buy, and a plastic bag with white-brown powdery substance inside believed to be heroin. The 29-year-old Boston man was arrested on charges of receiving stolen property over $250, larceny over $250, and possession of a Class A drug.
Nov. 15, 5:14 p.m.: An officer patrolling ran the registration for a vehicle and found the license had been revoked. The vehicle was stopped at Main Street by Church Street. The man also was driving without the interlock device required by a court due to an OUI offense. The 44-year-old Mashpee man was arrested on a charge of driving with a suspended license – a subsequent offense.
Nov. 16, 1:10 p.m.: Two people were seen working together to take three DVDs from Target. They put them in a bag under items they had purchased and attempted to leave. A 33-year-old Watertown man was arrested for shoplifting – a second offense, and a 28-year-old Quincy woman was arrested for shoplifting by concealing merchandise.
Incidents
Nov. 10, 12:24 p.m.: A storage locker was broken into on Arlington Street. A heavy duty lock and chain were broken off and $5,500 worth of copper piping was taken.
Nov. 10, 3:53 p.m.: A woman was seen taking a package of highlighters and an Apple iPad case and walking out of Target. The 28-year-old Brighton woman was summonsed to Waltham District Court for shoplifting.
Nov. 11, 11:06 a.m.: A vehicle parked at the Watertown Free Public Library had its driver side window smashed and two windshield wipers bent. A witness saw a woman with black hair causing the damage. She was seen leaving the area in a newer black Honda.
Nov. 12, 10:02 a.m.: A Pleasant Street resident was in her living room when she heard a loud sound in her living room. She saw three young black males by the MDC pool with a what she thought was a cap gun, but then she discovered her window was shot by a BB gun.
Nov. 15, 3:04 p.m.: A woman was seen taking items from Gymboree. She placed children's clothing in a bag and when an employee asked if she was going to pay for the items she ran. The employee followed her and she dropped the bag. The store will handle the incident with the 46-year-old Brighton woman internally.
Also this week: