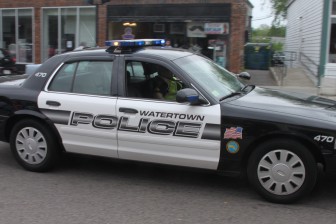 A man who allegedly attacked to party goers with a bottle faces assault and battery charges after Watertown Police arrested him on Nov. 23.
The incident took place at a birthday party on Walnut Street on the evening of Nov. 22, between 10 and 11:30 p.m., said Watertown Police Lt. Michael Lawn. The suspect was identified as Efrain Perez Gomez, 42, of Watertown.
"At the birthday party on Walnut Street a fight broke out and during the altercation Gomez struck two individuals with a bottle," Lawn said.
Police located Gomez around 12:20 a.m. on Nov. 23 and placed him under arrest. The Walnut Street resident faces two counts of assault and battery with a dangerous weapon – a beer bottle, Lawn said.