Watertown-based Botanical Springs got off to a good start with their products featuring birch sap before they even put their products on the market. The company's birch sap lemonade won first place at a birch sap and syrup conference. 
The company, started in December 2014 by friends and business partners Francesco Capaldi and Mikal McCalmont. They use maple and birch sap which they harvest from trees in Maine.
Along with the first place birch lemonade, Botanical Springs got second place in the birch water category at the first International Birch Sap and Syrup Conference held at Paul Smith's College in New York, and co-sponsored by the Cornell University Cooperative Extension School.
The winning lemonade was a mixture of infused birch sap, cucumber, watermelon, fresh wild mint grown in Capaldi's mother's garden and local honey. They only had about three weeks to perfect the recipe, McCalmont said. Multiple lemonades were mixed, and some ingredients were a matter of hot debate, Capaldi said.
"We knew we wanted honey as the sweetener," Capaldi said. "We fought like crazy over putting cucumber in. And it was (McCalmont's) idea to use mint."
The lemonade has a light and refreshing taste. McCalmont said people take notice after just one try.
"When kids taste it, or even adults, they go off and come right back for more," McCalmont said.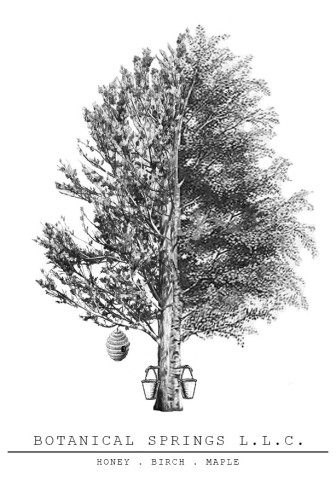 Botanical Springs will have a variety of products, some aimed at consumers and others to be used by restaurants. One such product is ice cubes infused with birch syrup and maple syrup. They expect to have birch lemonade and birch water in restaurants in the Boston area and in Portland, Maine.
They also plan to sell five gallon jugs of birch water, which Capaldi said is a great thirst quencher.
"The jugs can be tapped and people can fill up their bottles," Capaldi said. "It would be great for yoga studios."
Eventually, they hope to feature it in some local markets.
"As soon as we can get it into Russo's we will put it there," Capaldi said. "The Meat Spot would also be great and the Armenian markets have been phenomenal. They take what ever we can produce."
Capaldi first learned about making maple syrup when he attended Eaglebrook School in Western Massachusetts.
"They had sugaring camp," Capaldi said. "We harvested sap during the day and made syrup at night."
McCalmont went to boarding school at Cardigan Mountain School and the pair met when they moved on to Cushing Academy in Ashburnham.
Capaldi  has worked on numerous project involving food and restaurants. He is a founding investor in Watertown's Tim Maslow's new restaurant Ribelle in Brookline.
McCalmont also has a love for food, but as he put it: "I love being in a kitchen, but not in a kitchen of a restaurant."
Botanical Springs will also travel to farmers markets and they recently purchased a retired SWAT command vehicle which they will use as a mobile classroom to teach children about tapping trees and how to be a beekeeper.
Find out more about Botanical Springs at www.botanicalsprings.buzz