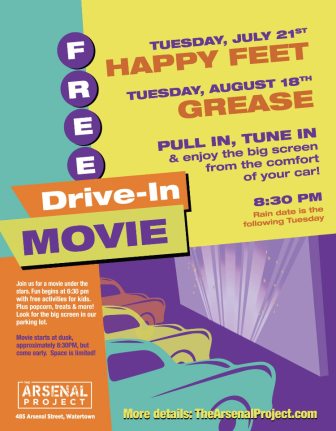 Get the family in the car and head over to the Arsenal Project in Watertown for a pair of free drive-in movies this summer. 
The mall will screen "Happy Feet" on Tuesday, July 21 and "Grease" on Tuesday Aug. 18. Rain dates will be the following Tuesday.
Look for the big screen in The Arsenal Project front parking lot.
Free activities and fun for kids start at 6:30 p.m., and popcorn, treats and more will be available. Movies start at dusk, around 8:30 p.m.
Large vehicles and SUV's will be parked toward the back, or you can bring your own chair for the designated seating area. Space is limited.
Movie Info:
Happy Feet: Tuesday, July 21. Runtime approximately 103 minutes.
Grease: Tuesday, Aug. 18. Runtime approximately 110 minutes.
The Arsenal Project (Formerly the Arsenal Mall), is located at 485 Arsenal St., Watertown.
For more information and directions, please visit: www.thearsenalproject.com or call 617-923-9944.