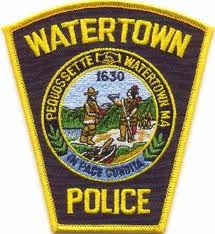 The following information was provided by the Watertown Police Department.
Arrests
June 22, 6:36 a.m.: Police arrested a man who was wanted for a warrant. The 25-year-old Watertown man was arrested for the warrant from Dedham District Court for a probation violation for a GPS device violation.
June 22, 1:20 p.m.: Detectives spotted a man driving who they knew had a suspended license. The 27-year-old Brighton man was charged with driving with an suspended license, driving an uninsured motor vehicle, driving an unregistered motor vehicle and driving with a revoked registration.
June 26, 12:46 p.m.: Police headed to Stop & Shop on Pleasant Street for a disturbance and they found one of the people had a warrant. The 52-year-old Watertown man was arrested on a warrant from Newton District Court for leaving the scene of an accident.
June 28, 5:31 p.m.: A woman was spotted putting items in a gift bag worth $326.83 and tried to leave the store. The 39-year-old Watertown woman was arrested for larceny over $250.
Incidents
June 20, 6:21 p.m.: A front porch window was broken sometime between June 20 and 22. It is unknown what was used to break the window.
June 22, 8:08 p.m.: A vehicle was broken into on June 9, and some change was taken and possibly a key. There were no signs of forced entry.
June 23, 2:50 p.m.: The glass from the passenger side rear window was broken on a car on Berkeley Street.
June 23, 9:23 p.m.: A neighbor saw that the dome light of a car parked on Channing Road was on, and when the owner went to look he noticed someone had rummaged through the car. Nothing appeared to be missing and there were no signs of forced entry.
June 25, 1:33 p.m.: A counselor from a group home in Lexington was driving two female students from the house to the Watertown Mall. When they got there, the two students kicked the counselor, pushed her to the ground and hit her before taking her cell phone. The two students left the area and later were arrested by Lowell Police for the warrants issued by the Watertown Police for the attacks. A 15-year-old girl and a 13-year-old girl were both charged with unarmed robbery, intimidating a witness, conspiracy, assault and battery and assault and battery with a dangerous weapon.
June 22, 9:11 a.m.: An unlocked vehicle was broken into on Edenfield Avenue and a valet key and spare change was taken. It also appears the car may have been moved.
June 27, 1:42 p.m.: A woman was stopped in Target for shoplifting. She took $389.63 in merchandise an put them in a bag inside a carriage and attempted to leave. A 36-year-old woman was summonsed to Waltham District Court for larceny over $250.
Also this week:
Man Wanted for Series of Flashing Incidents Arrested in Watertown