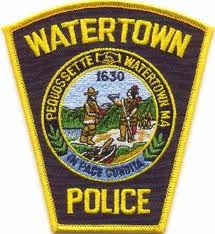 The following information was provided by the Watertown Police Department.
Arrests
July 13, 8:42 a.m.: A man stopped at Dunkin Donuts on Main Street to get a coffee. After he got the coffee he spilled some of it and left his change on the counter as he cleaned the spill, and when he returned the money – about $15 – was gone. A woman was spotted coming up behind him and taking the money off the counter and left the store. The man called police, who tracked the woman down at Main Street and Edenfield Avenue. The 31-year-old woman from Watertown was arrested for larceny from a person.
July 13, 10:13 p.m.: A Hilltop Road resident heard a crash and when she came out she saw that someone had damaged her boyfriend's car. She spotted a dark-colored Chevy pickup leave the area and pull in to a driveway down the street. Police located the driver of the pickup and detected an odor of alcohol on his breath. Field sobriety tests were given and the 50-year-old Watertown man was arrested on a charge of driving under the influence of alcohol – a fourth offense, and leaving the scene of property damage.
July 15, 4:27 p.m.: Two men were causing a disturbance in the area of Watertown and California streets. Police talked to the men and found that both had warrants. A 67-year-old Watertown man was arrested on a warrant out of Roxbury District Court for a municipal ordinance violation and a 54-year old man was arrested on three warrants – one each from Quincy, Chelsea and Cambridge district courts.
July 16, 5:58 p.m.: Officers patrolling near Nichols Avenue spotted a man they knew had a warrant for his arrest. They arrested the 52-year-old Watertown man for the warrant from Somerville District Court for larceny over $250.
July 19, 4:17 p.m.: An officer patrolling on Walnut Street spotted a Honda parked on the side of the road. When the registration was run through the system, and officers found the owner had a suspended license. The car pulled out and police pulled over the vehicle on Mt. Auburn Street. Officers detected a strong odor of marijuana and when they searched they found two baggies of marijuana and a pill bottle with three pills identified as Oxycontin. The 21-year-old Watertown man was arrested for driving with a suspended license, possession to distribute a Class D drug and possession of a Class B drug.
Incidents
July 13, 10:43 a.m.: Someone entered a home on Prospect Street through an unlocked door and took a Samsung tablet, a bag with a phone inside, iPods and a camera. Police are investigating.
July 15, 8:05 a.m.: Spray painted graffiti was found on the back of Sasaki Associate's building on Pleasant Street, which backs onto the bike path along the Charles River.
July 16, 12:56 p.m.: The owner of a car parked on Galen Street found that someone had keyed the vehicle along the entire left side and on the trunk.
July 16, 1:59 p.m.: Two teenage girls were spotted taking items from CVS on Main Street. One went into the beauty section and took a nail care package under her shirt. They also took drinks out of the cooler. The two 14-year-old girls, both from Newton, were summonsed to Juvenile Court in Waltham on charges of shoplifting.
July 16, 2:37 p.m.: A man came to the Police Station to report that his motorcycle had been vandalized while parked on Irving Street. The clutch cable was cut, the spark plug wires were cut, both tires were slashed, the handle bar covers were cut and the seat was cut.
July 17, 9:17 a.m.: A Bennett Road resident had a party where about 40 teens came over. Afterward, the owner found that a laptop and a Bose stereo system were missing. Police are investigating.
July 19, 9:49 a.m.: Jiffy Lube was broken into and the cash drawer was taken, and computer cords were cut. A small amount of cash was inside. There were no signs of forced entry.
July 19, 10:15 a.m.: A car was keyed while parked on Belmont Street.
Also this week:
Two Women Busted for Shoplifting and Taking a Purse at Target