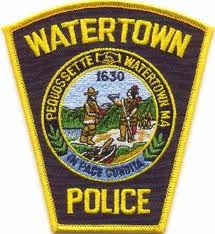 The film about the Boston Marathon Bombings, and the events that followed in Watertown, will film a portion of the film at the old Police Station and a donation from the filmmakers will allow the town to hire an additional police officer. 
Watertown Town Manager Michael Driscoll revealed the news during his presentation of the Fiscal 2017 budget to the Town Council, Tuesday night.
"The submitted Fiscal Year 2017 budget includes funding of one additional police officer above Fiscal Year 2016 level as a result of CBS Films providing $60,000 to the Town, primarily related to the filming of scenes of the 'Patriots Day' movie at the former Police Station," Driscoll said.
The police officer will bring the total uniformed officers in town up to 67, Driscoll said, including 49 patrol officers. The department also has nine dispatchers, four civilian employees and crossing guards at spots around town.
In future years, the additional officer town officials will have to find room in the town's operating budget to pay for the officer added through CBS Films' donation, Driscoll said.
The filming will likely take place in May, Driscoll said, though he did not have exact dates. The Watertown Police Department had moved to the new Police Station on Main Street by the time of the Watertown Shootout and Manhunt in 2013.
Filmmakers had also sought to film scenes in the actual location of the Watertown Shootout – the intersection of Laurel Street and Dexter Avenue – but that was met by strong objection from some Watertown residents.
The movie has been shooting in spots around the Boston area, including last week in Framingham, which is standing in for Watertown for the recreation of the Watertown Shootout.
Patriots Day stars Mark Wahlberg as a police officer – based on a number of a real people. His wife will be played by Michelle Monaghan.
Oscar-winner J.K. Simmons will portray Watertown Police Sgt. Jeffrey Pugliese who was involved in the shootout with the bombing suspects. Another Watertown officer in the shootout, Sgt. John MacLellan, will be played by Cliff Moylan, according to IMDB.
Kevin Bacon as the FBI Special Agent in Charge in Boston, John Goodman will play Boston Police Commissioner Ed Davis. Dzhokhar Tsarnaev will be played by former Nickelodeon star Alex Wolff.