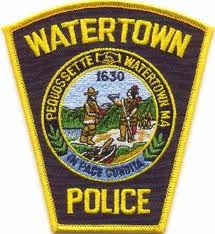 The following information was provided by the Watertown Police Department.
Arrests
May 28, 12:05 a.m.: A man driving down Main Street struck a car parked near Whites Avenue, which then struck two more parked vehicles. Police arrived and saw a man standing next to the vehicle that triggered the accident. The man told police said he looked down to find a cigarette lighter and he crashed into the parked vehicle. The officer smelled alcohol on the man's breath and gave field sobriety tests. The 27-year-old Franklin man was arrested on a charge of driving under the influence of alcohol, marked lanes violation and unsafe operation of a motor vehicle.
May 29, 2:35 p.m.: A man was seen in the electronics section of Target taking the security devices off two Samsung tablets. He tried to leave without paying. The 60-year-old Boston man was arrested on a charge of larceny over $250.
Incidents
May 25, 10:15 a.m.: A man was seen in Marshalls putting multiple packs of underwear into his backpack and into a shopping bag. When he was stopped and had $224 worth of underwear. The 60-year-old Lawrence was summonsed into Waltham District Court for shoplifting.
May 26, 10:20 a.m.: A UPS worker parked his car in the company lot overnight. He was alerted by a coworker that someone had jacked up his car and took a rear tire and rim off the car. Police are investigating.
May 26, 2:30 p.m.: An employee at the Stop & Shop on Watertown Street observed a man putting items into a backpack and then walk out of the store without paying. The man was stopped and the 24-year-old from Waltham was summonsed to Waltham District Court for shoplifting by concealment.
Also this week:
Traffic Stop Leads to Arrest of Two Suspected Drug Dealers
Watertown Bank Robbed in Broad Daylight Wednesday