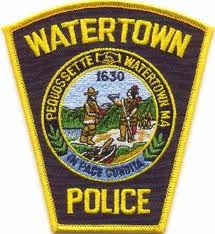 The following information was provided by the Watertown Police Department.
Arrests
June 7, 1:45 a.m.: A man broke a glass door at Arsenal Wine and Spirits and went inside and stole two pints of Smirnoff vodka. A witness saw the man break in and come out. Police were able to locate a suspect who matching the witness' description. The man had fresh cuts on his hands. Police also looked at security video which showed the man first try to break in with a screwdriver before picking up a piece of asphalt and mash the glass. He then crawled in and grabbed the vodka. The 47-year-old Brighton man was arrested on charges of nighttime breaking and entering for a felony, malicious destruction of property and possession of burglarious instruments.
June 8, 6:50 a.m.: A man wanted on a warrant was seen in the area of Waverley Avenue and Worcester Street. The 65-year-old North Dartmouth man was arrested on the warrant from Waltham District Court for assault and battery on a police officer.
June 9, 2:20 p.m.: Police responded to a report of a suspicious man on Main Street and when they looked at the man's record they found he was wanted on a warrant. The 19-year-old Newton man was arrested for the warrant from Newton District Court for larceny over $250 and breaking into a depository.
June 9, 8:25 p.m.: A car driving down Common Street struck a parked vehicle. Police found the driver still in her vehicle, uninjured. When police spoke to the driver, her speech was slurred and the officer detected an odor of alcohol on her breath. Field sobriety tests were performed and the 38-year-old Watertown woman was arrested on charges of driving under the influence of alcohol and marked lanes violation.
Incidents
June 6, 12:35 p.m.: Two men went into Golfsmith at the Arsenal Mall and picked up two drivers each. As the approached the front door they ran out of the store. Police are investigating. The drivers were worth a total of $1,600.
June 6, 5:30 p.m.: A woman visited the cafe at the Watertown Free Public Library and she believes someone took her purse from her shopping basket while she was there. Later in the day she found out one of her credit cards was used twice in Cambridge, once in Dorchester and once in Waltham. Police are investigating.
June 8, 8:15 p.m.: A woman was walking her dog on Longfellow Road when a car drove by and the driver yelled profanities and made a threat that he would harm her dog. The victim did not recognize the man and described him as a white male, around 20 years old with short, spiked brown hair.
June 11, 1:35 p.m.: A Brookline Street resident said he house was egged for the second time in two weeks. The eggs were thrown by someone driving a brown Honda or Hyundai on June 10 at about 11 p.m.
June 12, 4:20 a.m.: A Subaru was parked in front of the owner's home on Beechwood Avenue at about 9 p.m. and when the owner came out to go to work at 4 a.m. the vehicle was missing. Later, Cambridge Police notified Watertown Police that the vehicle was found on Linden Street at Mt. Auburn Street, right near Harvard Yard, in Cambridge. There was no damage to the car and police are investigating.