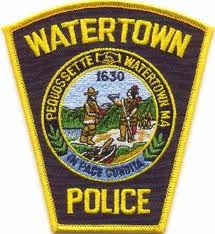 The following information was provided by the Watertown Police Department.
Arrests
June 13, 9:05 p.m.: A man was spotted breaking into a vehicle on Nichols Avenue. A witness saw a man walking around vehicles on Nichols and then leaned into a vehicle. As she went to call police she saw the owner of the car approach and then chased the suspect down the street. Police arrived and canvased the area. They located a man fitting the description in front of the Mt. Auburn Grill. The owner of the vehicle identified the suspect as the man who broke into his car. The 55-year-old Brighton man was arrested on a charge of nighttime breaking and entering into a motor vehicle for a felony.
June 14, 2 p.m.: A man was spotted jumping into the pool of an apartment building on Coolidge Avenue. He then went into the parking a garage of the building next door. He was seen coming out with a bicycle. Police stopped the man and found the 34-year-old homeless man had a warrant out of Brookline District Court for two counts of possession of a Class E drug and one count of receiving stolen property over $250. Additionally, he was charged with receiving stolen property for having the bike from the apartment building.
June 15 1:20 a.m.: An officer driving along Arsenal Street ran a license plate and found the owner had an arrest warrant. The vehicle was stopped and the officer confirmed the owner was driving. The 30-year-old Brockton man was arrested on a charge of driving with a suspended license.
June 15, 10:15 p.m.: A loud argument occurred on Mt. Auburn Street, and when police arrived they spoke with the people involved. One of the men had a warrant for his arrest. The 53-year-old East Falmouth resident was arrested on the warrant from Chelsea District Court for shoplifting, a third offense.
June 19, 1:05 a.m.: Police were called to a car accident on Palfrey Street. They spotted a man examining damage to his car, which had two flat front tires, and damage to his bumper. When officers spoke to the man they detected an odor of alcohol on his breath. He said he had attempted to make a U turn, but struck the curb. The man had glassy, red eyes and admitted he had been drinking. Field sobriety tests were performed and the man was arrested. In the follow up investigation police found the man had driven onto a front yard, ran over some flowers and shrubs and damaged a retaining wall. The 22-year-old Lexington man was arrested on a charge of driving under the influence of alcohol.
Incidents
June 13, 2:20 p.m.: Someone stole a metal table and two chairs from outside the Commander's Mansion. They went missing Saturday night. Police searched the area and could not find the furniture.
June 15, 3:45 p..m.: A man who had been taking care of his brother's home while he was hospitalized discovered the house on Howe Street had been broken into. He said the break in occurred between June 9 and 15. He was not sure if anything had been taken. Detectives are investigating.
June 15, 8:30 p.m.: Sometime between 2 and 8 p.m. on June 12, someone placed and locked a Master Lock pad lock onto the passenger side door handle of a car on Nichols Avenue. The owner said the same thing happened a month ago.
June 16, 10:45 p.m.: Two men got into an argument on Olcott Street after one man came out and yelled at the other for parking in front of his home. The driver said he was grabbed by the other man in an aggressive way. The man freed himself and called police. The Olcott resident denied grabbing him. Police did not file charges and told the two men they could file a complaint in Waltham District Court.
June 17, 3:30 p.m.: A woman rented a 2014 Kia from Peter Fuller Rentals in January and still had the car. After several attempts to get her to return the vehicle Peter Fuller determined she was not planning to return it. A court summons was sought for a 46-year-old Waltham woman for failure to return leased property.
June 18, 12:10 a.m.: An employee was in the New Yorker Diner when a window on the Taylor Street side of the diner was broken. When he ran out, he spotted three teenaged males running toward the CVS, but lost sight of them. The damage was valued at around $200.
June 18, 8:55 p.m.: The owner of Coolidge Liquors spotted a man in his store who he had seen taking a bottle of Belvedere vodka the previous day. Police had reviewed the video from the day before, and got a summons for a 35-year-old Watertown man for shoplifting, a second offense.