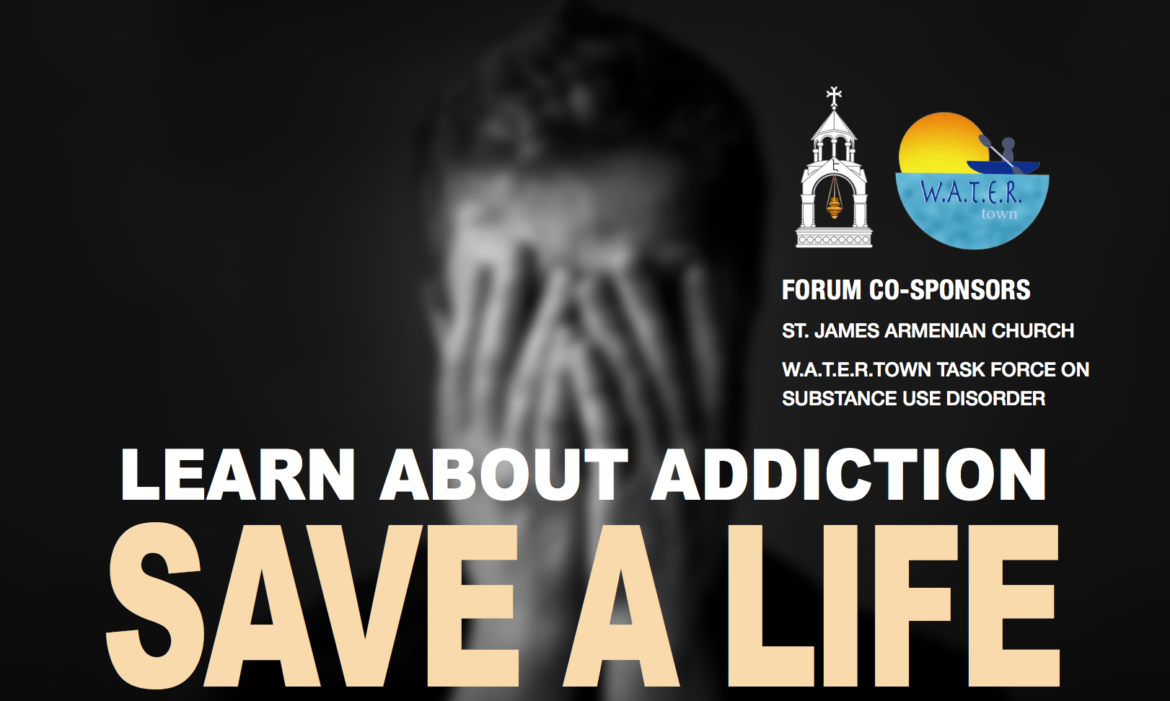 The opioids crisis is a growing crisis, and the WATERtown Task Force on Substance Abuse will sponsor a forum about addiction and recovery in September.
The number of opioid-related fatal and non-fatal overdose rates are higher thus far in 2016 compared to 2015, said Deborah Rosati, director of the Watertown Health Department.
"Educating the entire community about this significant public health issue is critical," Rosati said. "There will be information for everyone (at the event)."
There will be speaker presentations as well as on our resource tables which will have flyers and brochures on proper prescription medication disposal, substance use prevention information for parents, naloxone information and vouchers, and intervention, treatment and recovery information. Also, numerous groups and agencies will have information for attendees.
More information on the forum is available below:
The W.A.T.E.R.town Task Force on Substance Use Disorder is pleased to partner with St. James Armenian Church who has graciously offered their spacious meeting room, light refreshments and support."
The public forum, which is co-sponsored by the task force and St. James Armenian Church, will take place on Wednesday, Sept. 14, from 7-9 p.m. at St. James Armenian Church, 465 Mount Auburn St., Watertown.
The program will include the story of a person in recovery, preventing substance use disorder, tips for parents, current statistics on opioid use and the science of opioid use.
Presenters:
Colleen T. LaBelle, MSN RN-BC CARN, Program Director STATE OBAT, Nurse Manager BMC OBAT, Executive Director MA IntNSA, Boston Medical Center
Deirdre Houtmeyers, R.N. Certified Addictions R.N., Licensed Alcohol and Drug Counselor, Clinically Certified Forensic Counselor/Domestic Violence Counselor, President & CEO St. Mary's Center for Women and Children
Dr. Laura Kehoe, Assistant Physician and Medical Director of the Substance Use Disorder Bridge Clinic at MA General Hospital; co-chair of the hospital-wide Substance Use Disorder Education Committee, and Assistant Professor of Medicine at Harvard Medical School
Peter Airasian, Life-long Watertown resident, co-founder of Watertown Overcoming Addiction, W.A.T.E.R.town Task Force member, Speaker on addiction and person in long-term recovery
W.A.T.E.R.town Task Force is supported in part by: Mt. Auburn Hospital Community Health Program