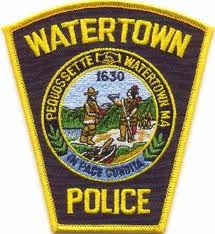 The following information was provide by the Watertown Police Department. 
Arrests
Aug. 30, 12:57 a.m.: Watertown Police went to 100 Warren St. to check on an elderly woman. When they were there, they found two men – her sons – staying with her. When they checked the men out, police found both had warrants for their arrest. A 60-year-old Texas man was arrested on a 1989 warrant from Dudley District Court for marijuana possession. A 58-year-old Watertown man was arrested on two warrants for driving with a suspended license, one from Framingham District Court and one from Brookline District Court.
Aug. 30, 5:04 p.m.: An officer patrolling in Coolidge Square stopped a man at Mt. Auburn Street and Bigelow Avenue. They found he had a warrant from Waltham District Court for violating a restraining order.
Aug. 3, 5 p.m.: A woman was spotted in Target taking several items and put them in a basket. Then she was seen putting the item in a back pack and tried to leave without paying. Security stopped her and found clothes, electronics, make and other items worth $514.89. The 18-year old Brandeis student from Washington state was arrested on a charge of shoplifting over $100.
Aug. 3, 5:09 p.m.: A woman was seen hiding clothing under her shirt and took some speakers out of the package. After she was stopped, a package of underwear was also found hidden in her clothing. She had a total of $125.91 in merchandise. The 43-year-old Cambridge woman was arrested for shoplifting over $100.
Incidents
Aug. 30, 8 p.m.: A Cottage Street resident received a bill from Sprint Cellular and showed three iPhones she had not purchased. They were worth a total of $1,500. She told police she did not know how her account was compromised.
Aug. 31, 12:15 a.m.: A woman driving on Irving Street tried to make a U-turn and midway through another driver crossed over the line and blocked her way. The driver backed up and allowed the woman to complete the U-turn. She continued on Irving Street and the other car made a U-turn and attempted to block in the woman. The woman went around the vehicle and called police. She described the other driver as a light-skinned Hispanic or Middle Eastern man, and she believed he was driving a Toyota Prius. Police could not locate the vehicle.
Aug. 31, 4:38 p.m.: A brown leather Michael Kors shoulder bag was taken from a Honda CRV parked at the Arsenal Mall. It contained $2o0 in cash, an iPad Mini, a wallet, her license and other items. It did not appear force was used to get into the vehicle, and the woman believes she might have left the door unlocked by mistake. Later she found someone used her credit card in a CVS in Brighton to make purchases of $152.95 and $252.95. Police believe the person purchased gift cards in the amount of $150 and $250. Boston Police are investigating the credit card fraud.
Aug. 31, 7:46 p.m.: A 2010 BMW had several scratches on it in different locations. They appeared to have been made intentionally.
Sept. 3, 11:29 p.m.: Two neighbors on Sycamore Street got into an argument after one complained that the other let his party get too loud. During the disagreement both "attempted to put hands on each other." Peace was restored and officers told them they could seek complaints in Waltham District Court.
Sept. 4, 7:38 p.m.: Two men went into Arsenal Wine & Spirits and while one went to make a purchase, the other man took a bottle of New Amsterdam vodka and put it under his shirt and into his waistband. The man left without paying and was seen getting into a late-model grey or silver Honda Civic. Police are trying to identify the suspect, who is described as a middle-aged white man wearing a blue hat, white shirt, blue jean shorts and white sneakers.