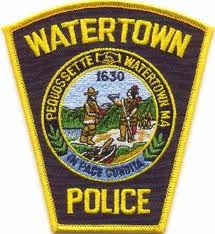 The following information was provided by the Watertown Police Department.
Arrest
Sept. 7, 5:20 p.m.: Target security spotted a woman putting items into her purse and walked past the registers without paying. She was stopped and security found a pair of jeans and eight bottles of nail polish, worth a total of $93.11. The 51-year-old woman from Dorchester was arrested for shoplifting by concealment – a third offense.
Incidents
Sept. 5, 4 p.m.: A man took a pair of Beats by Dre Solo 2 headphones from Best Buy, took them out of their packaging and put the headphones under his shirt. When an employee confronted the man, the suspect ran out the door, threw the packaging on the ground and got into vehicle. Police are investigating.
Sept. 5, 5:35 p.m.: A bicycle that was chained to a column at Repton Place was stolen. It was last seen on Sept. 4 at midnight. The bike was a black Trek mountain bike with a white decal worth $300-400.
Sept. 8, 6:10 a.m.: The Watertown Fire and Police departments responded to Porter Street for a report of a fire. The homeowners woke up to the smell of smoke and discovered a computer was engulfed in flames. They were able to put it out with a fire extinguisher. The home had severe smoke damage.
Sept. 8, 4 p.m.: Two men walked into Golfsmith at the Arsenal Mall and one grabbed four Taylor Made M2 drivers, worth $400 each, and left without paying. Police got a description and a license plate number. The theft was like one that had happened at the store recently, and similar to other incidents at golf stores in Reading, Burlington and Avon.
Sept. 8, 5:35 p.m.: Someone wrote a vulgar word on an apartment door and the mail box for a unit at the building at 250 Watertown St.
Sept. 8, 8:35 p.m.: A King Street resident found that three of four tires were flat and the fourth was losing air. It appears the tires were punctured by a sharp object. The tires are worth a total of $1,000.
Sept. 9, 2:15 p.m.: The manager of the Stop & Shop at 700 Pleasant St. spotted a woman with an overflowing carriage pick up a plant from outside the store and put it in her carriage and attempted to leave without paying. The manager confronted the woman about the plant. When questioned, she could not produce a receipt for the other items in her cart, either. The manager asked the woman to come inside and she said he should just take the items back. There was a total of $473 of merchandise in the carriage. She got into a car with a man inside and left, but the manager got the plate. Police identified the woman as a 45-year-old Waltham woman and summonsed her to court for larceny over $250.
Sept. 9, 6 p.m.: Between Sept. 8 and 9 a package was stolen from a porch on Marlboro Terrace. A neighbor found the package down the street but it was empty. It had contained dog bones and two sets of toothbrushes.
Sept. 9, 6:15 p.m.: A vehicle was parked in a driveway on Spruce Street at about noon and when the owners returned at 6:15 p.m. the window was shattered. Nothing appeared to be missing from the vehicle.