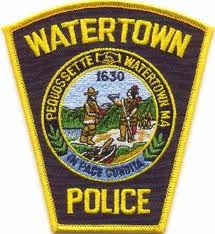 The following information was provided by the Watertown Police Department. 
Arrest
Sept. 18, 7:20 p.m.: Police were called to Mt. Auburn Street at Elton Avenue for a disturbance. When they spoke to a woman involved and checked her record police found that she had a warrant for her arrest. The 33-year-old woman from Lynn was arrested on the default warrant out of Lynn District Court.
Incidents
Sept. 9: A car missing for two years turned up in Weymouth, and authorities there contacted Watertown Police. The The 2012 Chevy Equinox SUV was stolen from the back parking lot of The Talk Restaurant in Watertown Square. Video of the night show an African-American man come out from beneath a stairway and walk over to the vehicle and then get in and drive off. On Sept. 9, Weymouth Police found the car parked on Main Street in their town. There was no significant damage to the vehicle. Watertown and Weymouth Police are working on identifying the thief.
Sept. 12, 4:45 p.m.: A fight broke out between two employees at Jimmy John's in Watertown Square. The two teenage boys, who are friends, had a verbal argument which turned into a physical altercation. Police spoke to the employees as well as a customer. Police told the employees they could seek charges in Waltham District Court, but they decided not to pursue charges. Store management was contacted and the matter will be taken care of internally.
Sept. 13, 6:40 p.m.: A woman was charged with dozens of vandalism incidents that took place at the apartment complex at 50 Watertown Street. Over the past two weeks 14 acts of vandalism were reported, including writing derogatory words on doors and other places, and damaging a lock by sticking paper clips in the keyhole. A 52-year-old Watertown resident who lives in the building was summonsed to Waltham District Court on a charge of destruction of property worth over $250.
Sept. 14, 8:05 a.m.: Five windows at Sasaki Associates on Pleasant Street were damaged, and appeared to be done by a BB or pellet gun. All the windows were facing the Charles River and the bicycle path. The cost to replace them is approximately $2,500.
Sept. 15, 11 p.m.: A Cross Street resident heard someone jiggling the backdoor of her apartment. She called police, and officers could not locate anyone, but they found a hole in the back fence of the complex. The fence was repaired, and police are investigating.
Sept. 16, 9:20 a.m.: A car parked on Pierce Road was scratched by someone on the evening of Sept. 14 or early hours of Sept. 15.
Sept. 17, 4:05 p.m.: An employee at Stride Rite in the Arsenal Mall reported her wallet was stolen from the employee room. The theft occurred between 6 and 9 p.m. on Sept. 13. She suspects it was a customer, who she saw acting suspiciously while she was helping a customer. She was contacted by her credit card company because someone used her card to charge $7.53 at Arsenal Pizza.