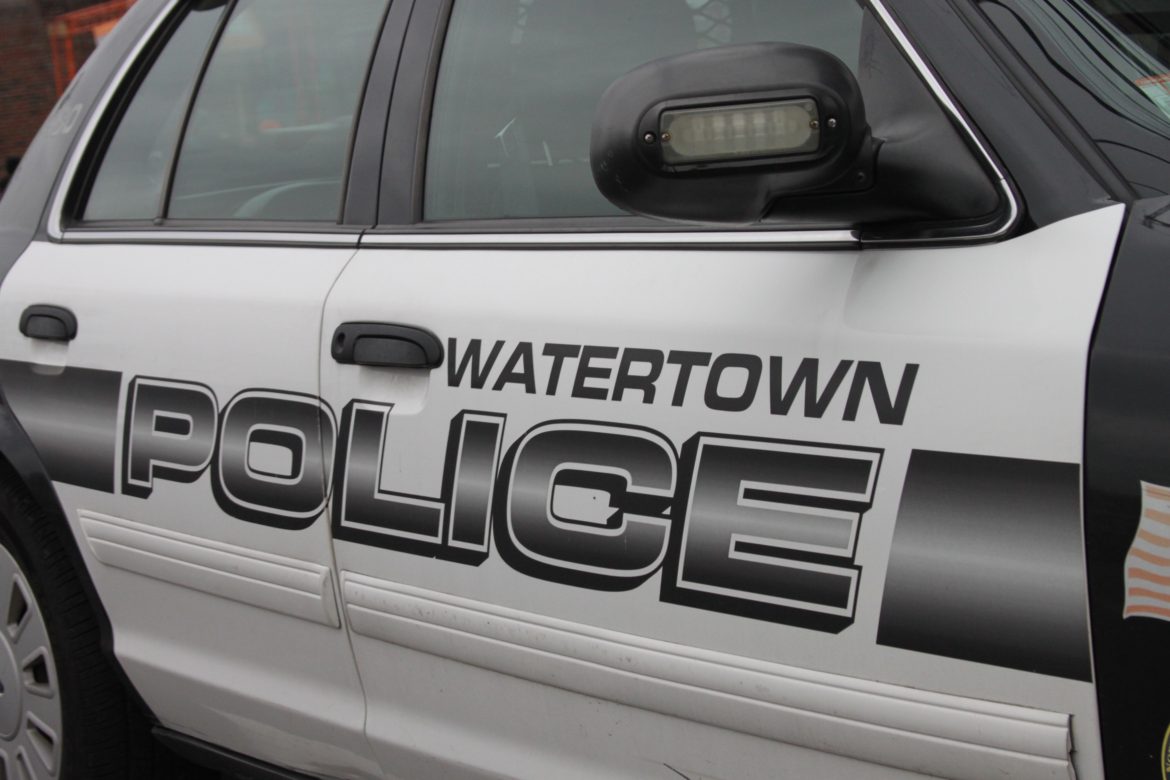 The following information was provided by the Watertown Police Department.
Arrests
May 10, 9:27 a.m.: An officer spotted a man known to have a suspended license driving in East Watertown. He was pulled over on Templeton Parkway and officers also found he had an active warrant out of Brighton District Court. The 30-year-old Somerville man was arrested for driving with a suspended license and the warrant charge.
May 10, 11:45 a.m.: An accident was reported at the Arsenal Mall and when police arrived they saw a Toyota 4Runner leaving the area. The officer yelled at the driver to come back and he did a U-turn and returned to the area. The man gave police a Virginia ID, and police discovered his Virginia driver's license had been suspended due to a DUI charge in 2013. The 30-year-old Newton man was arrested on the charge of driving without a license.
May 13, 9 p.m.: Marshall's security spotted a shoplifter and the man left without paying. When police arrived, the man was in the mall concourse and security was trying to get him to return to the store, but he refused. Police got him to go back to the store. They also noticed a large bulge in the man's left pant leg that appeared to be clothing being stuffed inside. Store security had seen the suspect fold a pair of pants and put them in his clothing. When shown a security video showing the man taking the pants the man denied it was him multiple times. Then he said, "I did not steal anything. Just take me to jail." The 49-year-old Dorchester man was arrested on a charge of shoplifting by concealing merchandise, a third offense.
May 14, 9:30 p.m.: An officer on patrol spotted a vehicle go straight across the Watertown Square intersection from Galen Street to Mt. Auburn Street from a left turn lane on a red arrow. Police discovered the driver's license had been suspended for an OUI. The 53-year-old Boston man was arrested on charges of driving with a revoked license and failing to stop.
May 14, 11 p.m.: An officer on Arsenal Street spotted a vehicle driving without its headlights on. The driver was pulled over on School Street. There were three people in the vehicle and a passenger in the backseat was not wearing a seatbelt. When police checked the man's information they found he had an outstanding warrant. The 33-year-old Ayer man was arrested on the warrant from Wareham District Court for possession of a Class A drug, possession of a Class B drug, having an open container of alcohol in a motor vehicle and driving under the influence of drugs. The driver was cited for an equipment violation – broken headlights.
Incidents
May 9, 2 p.m.: The manager of Toyota of Watertown reported that four dealer license plates have gone missing. They disappeared sometime between April 10 and May 9.
May 9, 8:45 p.m.: A man working out at GymIt at about put some items into a locker but did not lock it. When he returned about an hour later, he found his belongings had been stolen, including an iPhone and a wallet with credit cards. Later he was told someone made and unsuccessful attempt to use one of the credit cards at Star Market in Allston.
May 10, 6:35 p.m.: A laptop was taken from a vehicle parked at Atlantic Battery Co. on Main Street. The owner told police he had seen two African-American teenage boys on bikes in the parking lot when he parked there. He did not see them take anything, but he did see them head toward Linear Park on Waverley Avenue. Police searched the area or the computer and they found a black laptop bag, but the computer was gone. It was found in the backyard of a home on Summer Street, and the owner reported seeing two teens fitting the man's description walking through the yard. Police are investigating.
May 11, 10:30 a.m.: A woman living at 55 Waverley Avenue reported that someone had taken three watches valued at $90 and $50 in cash out of a dresser drawer in her living room. There were no signs of forced entry.
May 11, 6:15 p.m.: Four men were seen in the parking lot of the Watertown Mall reportedly stealing a bike. When police arrived they found three males fitting the description of the suspects, and the fourth could not be found. All said they had no idea about the stolen bicycle. Two witnesses said they saw four males acting suspiciously around their vehicle and then they walked over to a Honda with a bike rack on it. They saw them take a knife and cut the lock and one of them rode away on the bike. The owner of the vehicle was found and he confirmed the lock had been cut. Police found security video showing four males, including the three suspects. The suspects were not detained, but police continue to investigate the incident.
May 11, 9:30 p.m.: A woman who was part of a cleaning crew at the Arsenal Mall reported that her purse had been stolen from the housekeeping room at the mall. The purse was worth $300 and she had a cellphone, IDs and $50 in cash inside.
May 13, 7:30 p.m.: Someone broke into a car parked in the lot at 100 Warren Street. and took a leather pouch which contained the vehicle's registration. The car had been left unlocked. No other vehicles had been broken into in the area.