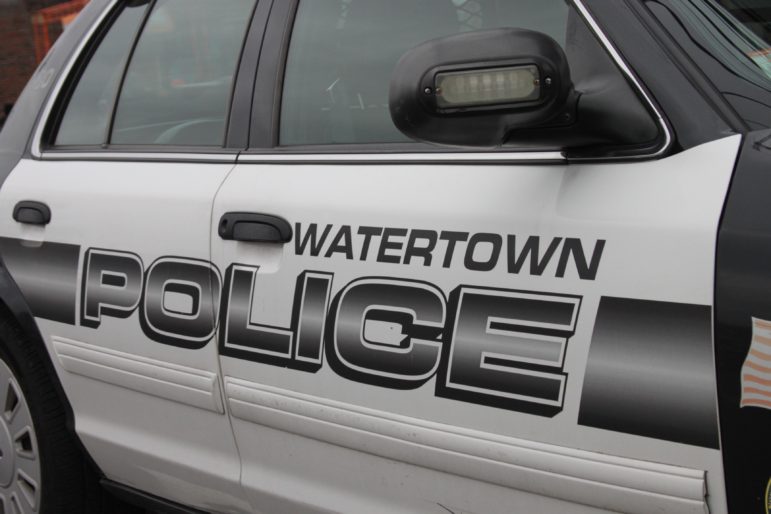 The following information was provided by the Watertown Police Department.
Arrests
Sept. 16, 6:10 p.m.: Officers in the area of Mt. Auburn Street and Melendy Avenue spotted a man whom they knew to be wanted on a warrant. After confirming that the there were active warrants for the man they took him into custody. The 39-year-old Watertown man was arrested on two warrants, one out of Waltham District Court for possession of burglarious instruments, wanton destruction of of property over $250, and two counts of attempting to commit a crime; and a warrant from Dorchester District Court for breaking and entering in the daytime for a felony, larceny over $250 and wanton destruction of property over $250.
Sept. 17, 7:35 p.m.: A vehicle ran a red light in Watertown Square going from Main Street onto Mt. Auburn Street. An officer pulled the vehicle over and discovered the driver had an expired driver's license, and an active warrant. The 32-year-old Watertown man was arrested on a charge of unlicensed driving and the warrant from Newton District Court for a probation violation and was cited for a red light violation.
Incidents
Sept. 13, 12:15 a.m.: An Uber driver drove a woman to Arsenal Street but when he ran her credit card it was denied. The two had argued and the woman left the car, leading the driver to call police. Police were able to locate the woman and helped the driver get paid. No charges were sought.
Sept. 13, 6:40 a.m.: A resident of Grove Street returned home to find that someone had broken in his rear door and stole items from his room. The rear door to his room was locked and had damaged that appeared to show someone had forced their way in. The door to the man's room was also locked, and had been forced open. Taken from the man's room was a lockbox which contained $2,600 in cash and seven Fossil watches. Also missing were a pair of Jordan sneakers, a pair of Beats wireless headphones, and an Xbox One gaming system. The man did not know who would break into his home. He has roommates, but none of their rooms were broken into and none knew anything about the break in.
Sept. 13, 10 a.m.: A Partridge Street resident reported that his motorcycle had been stolen. The man parked his white and grey 2008 Honda CBR 600 outside his friend's home at about 6 a.m. on the 12th and the next morning when he went out it was missing. It is worth $5,500.
Sept. 13, 1:45 p.m.: A shoplifter was seen walking around Marshall's with a large brown paper bag and putting items into the bag. He left the store, avoiding the checkout area. When he went through the exit the alarm went off. The store manager tried to stop the man, but he fled the store and the mall. Police were able to identify the man from security video and the 41-year-old man from Waltham was summonsed to Waltham District Court for shoplifting over $100.
Sept. 14, 2:55 p.m.: A woman went to the Register of Motor Vehicles at the Watertown Mall and stopped in the restroom. She realized she had left her cellphone in the bathroom and when she went back it was gone. It was an iPhone 6S worth $800.
Sept. 15, 11:45 a.m.: Target security spotted two women walking around the store putting items in a bag and appeared to be working in concert with each other. When they were stopped they had candles, household items, a cellphone cover and a PopSocket cellphone grip. The items were worth less than $100. The two women, a 23-year-old from Auburndale and a 19-year-old from Newton, were both summonsed to Waltham District Court for shoplifting by concealment.
Sept. 16, 3:05 p.m.: A man driving down Main Street pulled over because his vehicle was smoking. The engine bay of his BMW SUV became engulfed in flames. The Fire Department put out the fire. There were no injuries and it is not clear how the fire started.
Sept. 16, 4:20 p.m.: A woman shopping at Marshall's put her bag down on the top of her carriage. While she was shopping she turned away from her carriage and when she turned back the contents of her pocketbook were missing. She didn't see anyone in the area. Store security looked at video and saw a woman in the area who they suspect of taking the items, which included $300 in cash, a cellphone, eyeglasses and a credit card. The suspect is described as a white woman, 5-foot-8, in her late 20s or early 30s with dark hair.
Sept. 17, 12 p.m.: A man crossed Arsenal Street near the Arsenal Mall against the light and while doing so a person approached on a moped. The men exchanged words and the man crossing the street was punched by the man on the moped. He suffered only minor injuries. Police looked around the area but could not locate the man on the moped. The man who was punched did not want to seek charges.
Sept. 17, 3 p.m.: A Philip Darch Road resident reported that a vehicle had been broken into. It was parked overnight and someone enterted the vehicle. There was no signs of forced entry and the only thing taken was loose change.