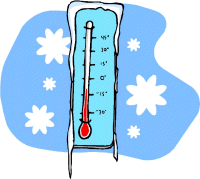 The Watertown Public Schools will be closed Friday, Jan. 5, 2018, due to the cold temperatures and windy weather in the forecast. 
The Watertown Public Schools put the following announcement on Facebook at about 5:07 p.m. on Thursday:
Due to the challenges of the storm today and the bitter cold and wind in the forecast for tomorrow, all Watertown Public Schools will be CLOSED tomorrow, Friday, January 5. While the storm is predicted to let up a bit later on this evening, it has been challenging to keep up with the snow removal due to the forceful winds and the rapid rate of snowfall. The bitter cold and wind tomorrow along with the snow-filled streets and sidewalks will create challenges for our students and staff to get to school and therefore out of great concern for the safety of our students and staff, the decision to close school tomorrow was made.
Be safe and stay warm!