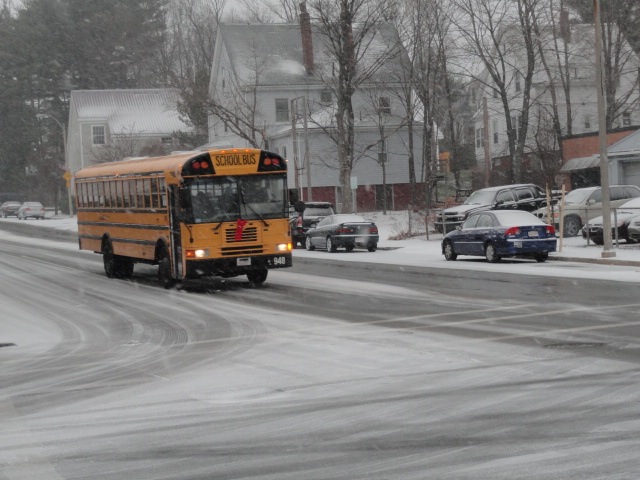 Students who live farther from school will get priority for seats on the school bus under the changes to the Watertown Public School's Transportation Policy, passed by the School Committee last week.
The state requires districts to provide free transportation for students in grades K-5 who live 2 miles or more walking distance from school, said School Committee member Eileen Hsu-Balzer, who is chair of the Policy Subcommittee. In Watertown the limit for free bus transportation is dropped to 1.5 miles for those going to Hosmer Elementary School. Also, sixth graders who live 2 miles or more from Watertown Middle School get to ride for free.
The Watertown Schools also provide free transportation for students attending the Minuteman Regional Vocational Technical High School in Lexington.
The district also allows students living closer than 1.5 miles to Hosmer or 2 miles from the middle school to ride the bus for a fee. Under the policy, these students will be accommodated as long as there are seats available on the buses.
With the old policy the seats were filled on a first-come-first served basis. The new Transportation Policy gives preference to those living farther from school, Hsu-Balzer said. Also, fee paying students will get seats until the buses reach 90 percent capacity.
The remaining seats will be held for students who move into the school district and live far enough away to qualify for free busing, Hsu-Balzer said.
Students living closer to school can apply after the 90 percent mark is reached, Hsu-Balzer said, but with conditions.
"Their parents sign an agreement saying that they could be bumped if someone moves into town who is eligible for free transportation," Hsu-Balzer said.
Currently, the school buses have not been filled by students who have registered to ride the bus, said Superintendent Dede Galdston. She noted there is still a month left before school begins.
Another change, Hsu-Balzer said, is that students will be issued bus IDs, which must be shown to ride the bus. This means students cannot bring friends home on the bus if they do not normally ride the bus and have an ID.
The School Committee voted 7-0 to approve the changes to the policy.