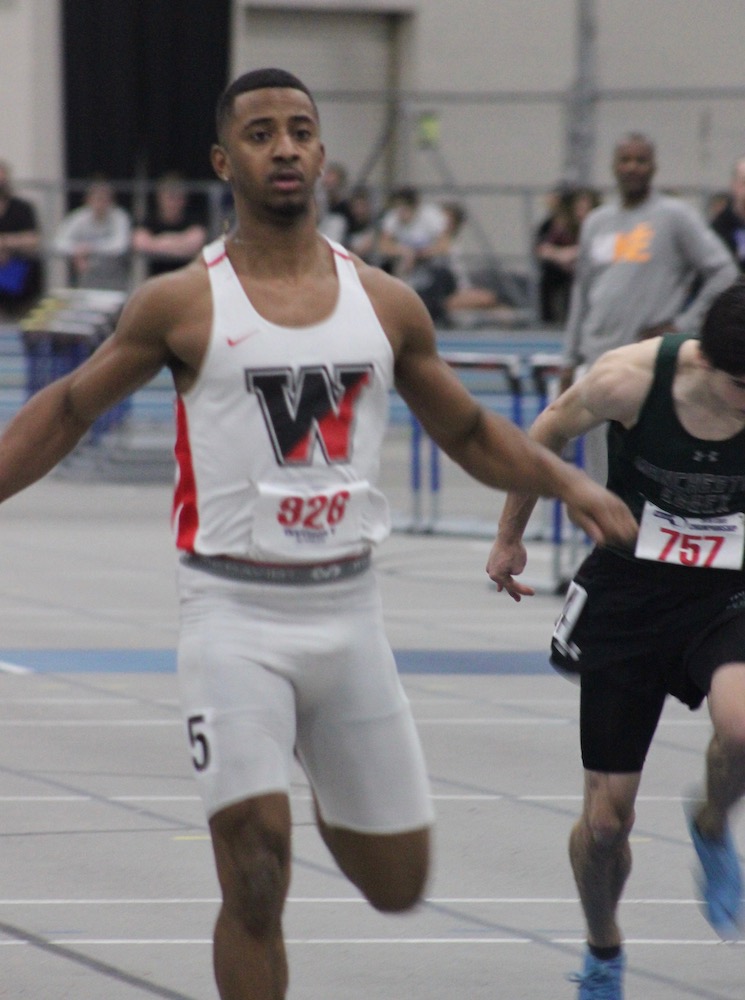 BOSTON — Watertown's Track and Field team took on the best athletes from around Massachusetts and two seniors showed they are among the best in the Bay State at the MIAA Div. 5 Indoor Track Meet.
Sprinter Mange Camara took two firsts, and high jumper Abbi Peterson finished second at the Division Meet, held at the Reggie Lewis Track & Athletic Center on Wednesday.
Sprinter Finds More Speed
Camara continued to turn in elite-level times in his senior indoor season, but that could have been derailed by an injury suffered during football season.
"I broke my ankle — fractured it," Camara said. "I got really lucky. I was walking around on it for two weeks. I didn't know it was fractured. I could have separated it, but luckily it stayed."
He avoided surgery and was able to recover by the end of the Raiders football season, Camara said, thanks to eating right, sleeping and physical therapy.
This season, he continued to rack up the accolades, breaking the Watertown High School record in the 55 meters, 300 meters and 400 meters. He also qualified for the New Balance Nationals Indoor meet in New York City on March 8-10. This will be his second appearance at the meet.
On Wednesday, he started the day by posting the top time in the preliminary heats of the 55 meter dash, with a time of 6.58 seconds. Less than half an hour later, he won the 55 final with a time of 6.50, .11 ahead of the second place runner.
"It was pretty solid. I had a pretty good start," Camara said. "I got a PR [personal record] again there by .01, which is nice."
The time also broke his own school record.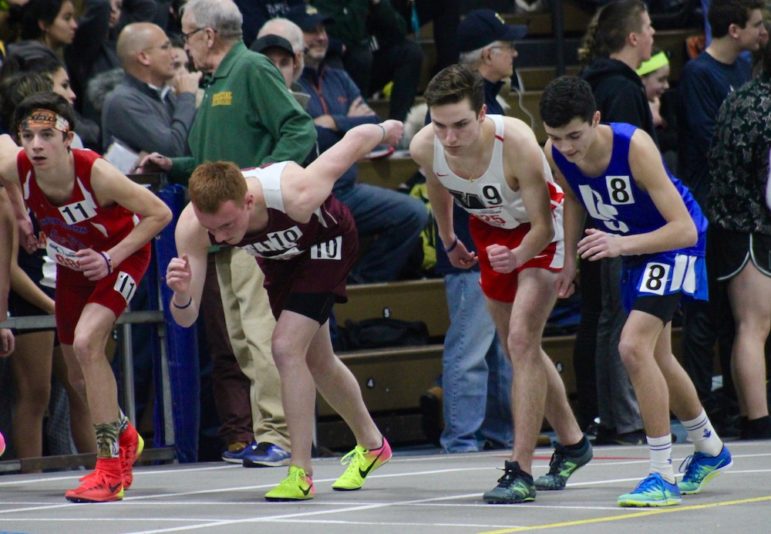 His 300 meter race almost ended before he got into the starting blocks. Camara was mistakenly scratched, meaning instead of running in lane 5, as he expected, he had to run in lane 1, the inside lane.
"It wasn't too bad. Mentally it is different, because you are just chasing the whole time," Camara said. "So, you definitely get a better view of where everyone is and how it's going. It's tougher on the curves."
Camara chased down the competition and won with a time of 34.72 seconds, 1.62 seconds faster than second place. He will compete in the 55 and 300 at the All-State Meet on Feb. 23.
To wrap up the day, Camara anchored the WHS 4 x 400 relay to fourth place with a time of 3:34.59. Also on the team were Kai Landry, Jack Barry and Nathan Follett.
Next year, Camara plans to run for a Div. 1 track team, and has applied to several New England colleges.
High Jumper
Peterson has already left her mark on WHS track this season by setting new school record in the high jump of 5-feet-3-inches at the Middlesex League Meet. While she did not reach that mark Wednesday, Peterson was the second best jumper at the Divisional Meet, clearing 5 feet.
"I feel strong today, even though I didn't jump as high as I wanted to," Peterson said, after completing the high jump competition.
Peterson's second-place finish qualifies her for the All-State meet.
"That's been a goal," Peterson said. "Overall, breaking the school record was definitely my big goal, and I beat that. It was 5-2. (I beat it by) one inch, but I broke it."
Peterson also anchored the girls 4 x 200 relay, which also consisted of Audrey Garland, Jenna Piete and Ava Grillo. The team finished in 1:58.93 for 25th place.
Next year, Peterson plans to continue her track and field career in college, probably at the NCAA Div. III level.
Raiders Compete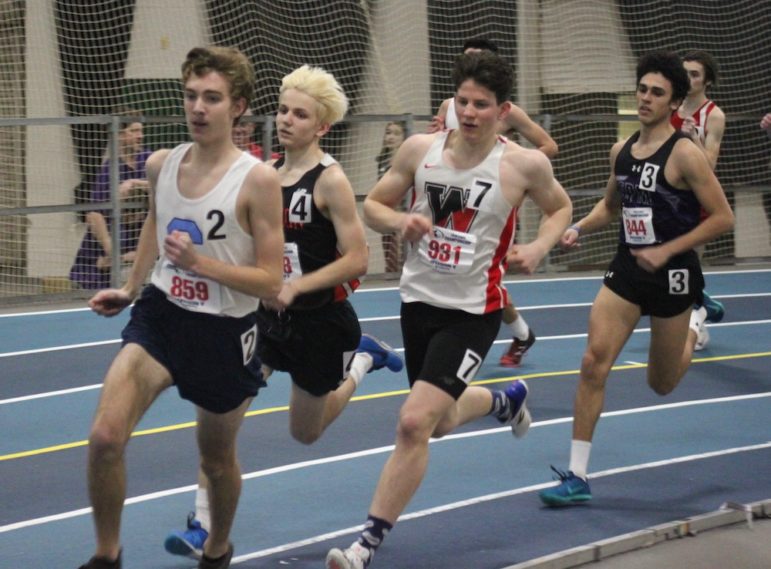 Several other Raiders track athletes ran in the Divisional meet.
Watertown junior Kai Landry scored for the Raiders. His time of 2:41.15 earned him seventh place in the 1000 meters.
The boys 4 x 200 meter relay team of Max Juscen, Karim Monroe, Hassan Houjazy and Nathan Follett finished seventh by running a 1:37.63.
Junior Rose Muldrew just missed out on qualifying for the 55-dash final. She finished ninth with a time of 7.62 seconds, tying her with the eight place finisher, but when the time went to the thousandth of a second, she was .001 behind. Muldrew also ran the 300, in which she finished 13th with a time of 43.69 seconds.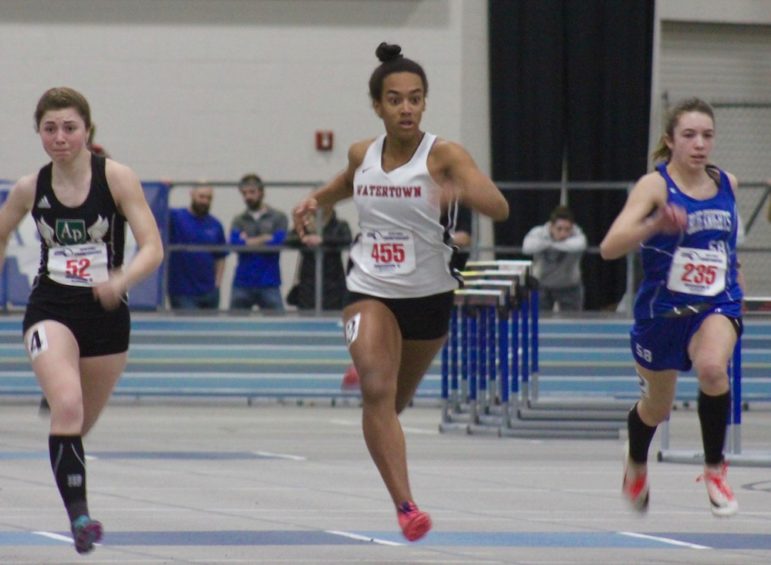 Two Raiders competed in the girls 1000 meters. Junior Lakshmi Thangaraj finished in 3:27.08 — the 18th fastest time, and junior Anna Fabian finished 22nd with a time of 3:32.45.
Senior Jack Barry placed 10th in the mile with his time of 4:41.88.
The boys team's score of 29 points tied it for fourth at the Div. 5 Meet with Martha's Vineyard. The Raiders were five points behind second place (a tie between Ipswich and East Bridgwater) and 10 points behind the winner, Seekonk. The girls got eight points, finishing tied for 20th with Carver and Millis. Littleton won with 50 points.
Scroll through more photos from the MIAA Div. 5 Indoor Track Meet below:
Senior Nathan Follett competed in two relays at the Divisional Meet.

Watertown junior Lakshmi Thangaraj ran in the 1000 meters at the Div. 5 Indoor Meet.

Watertown junior Anna Fabian competed in the 1000 meters at the Divisional Meet.

Watertown senior Abbi Peterson cleared 5-feet at the Div. 5 meet and finished second overall.

Watertown senior Mange Camara won the 300 meters at the Div. 5 Indoor Meet.

Watertown runner Jenna Piete runs in the girls 4 x 200 relay at the Div. 5 Meet.

Watertown sprinter Karim Munroe runs a leg in the 4 x 200 relay at the Divisional Meet.

Watertown's Ava Grillo runs her leg of the 4 x 200 relay at the Divisional Meet on Wednesday.

Watertown runner Audrey Garland rounds the curve at the Divisional Meet in the 4 x 200 relay.

Watertown runner Hassan Houjazy competes in the 4 x 200 relay at the Divisional Meet.