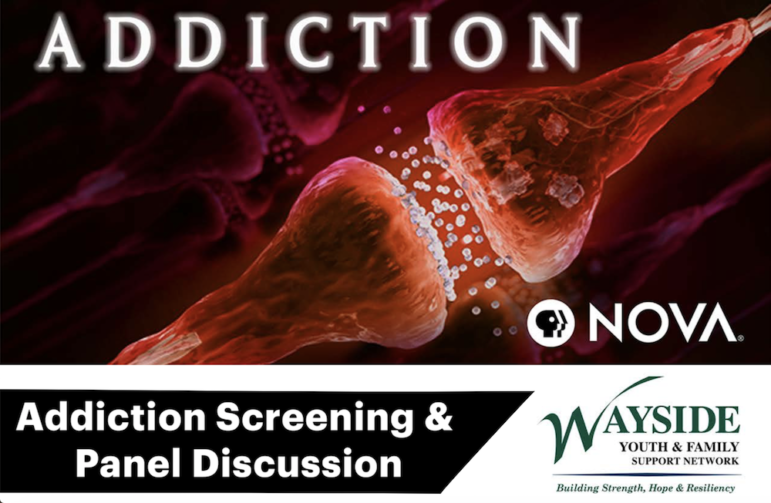 Wayside Youth & Family Support Network's Multi-Service Center and PBS' science series, NOVA, are holding a screening of the documentary, Addiction. The screening is free and open to the public.

The film, produced by NOVA, a program of WGBH Boston, takes a hard look at the science of addiction. Addiction features firsthand accounts from individuals and families struggling with opioid addiction. While addiction has long been viewed as a moral failing, leading scientists will help viewers understand why addiction is a disorder that occurs as a result of drugs profoundly altering the brain. Addiction explores how we might best address our drug problem, from advances in neuroscience, the development of evidence-based treatments to the rethinking of laws and public policies.

A panel of local experts will be on hand to answer audience questions following the film including:
Dr. Laura Kehoe, medical director, MGH Substance Use Disorder Bridge Clinic, Assistant Professor of Medicine, Harvard Medical School, also featured in the film
Dr. Dara Arons, family physician, Charles River Community Health
Dr. Damian Archer, chief medical officer, North Shore Community Health Center
Peter Airasian, co-founder, Watertown Overcoming Addiction
When: Tues., March 5, 2019, 6–8:30 p.m.
Where: Mosesian Center, 321 Arsenal St., Watertown, MA
Eventbrite RSVP: https://bit.ly/2UTpujx or contact Stephanie_Sunderland@waysideyouth.org
A Narcan training will be provided by the Watertown Fire Department.
Also, light refreshments will be served from 6-6:25 p.m. A raffle will be drawn, must be present to win.
The screening event is co-sponsored by Watertown Overcoming Addiction, the Overdose Prevention Education Network (OPEN), Watertown Task Force on Substance Use Disorders, Charles River Community Health, and Watertown Youth Coalition.   

Funding is provided by the MA Department of Public Health, Bureau of Addiction Services, MA Opioid Abuse Prevention Collaborative and the U.S. Substance Abuse and Mental Health Services Administration.
  
About Wayside:

Founded in 1977, Wayside Youth & Family Support Network is a non-profit, nationally accredited human services agency dedicated to Building Strength, Hope and Resiliency through its family-based outreach services, residential treatment programs, and community-based counseling services to thousands of children, youth and families throughout Eastern and Central Massachusetts.

Since 1968, Wayside Multi-Service Center has provided health promotion programing and counseling services to youth and families and is committed to inclusivity, racial and gender equity and social justice.