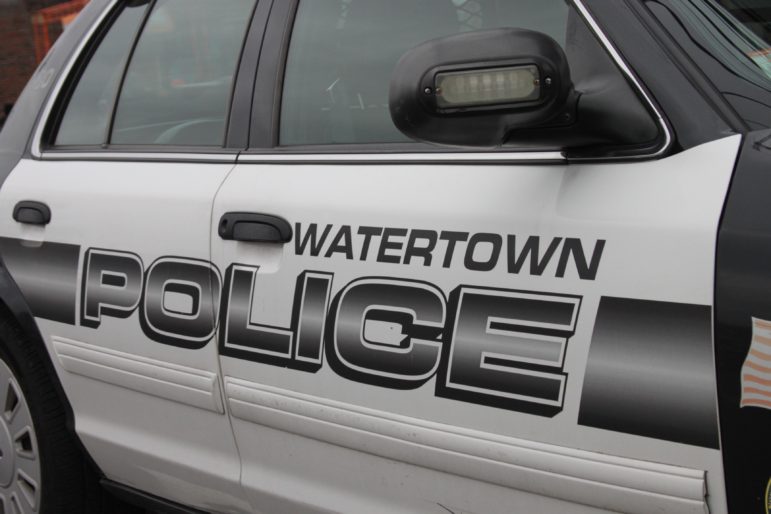 The following information was provided by the Watertown Police Department.
Arrests
Feb. 4, 4:14 p.m.: An officer patrolling on Walnut Street ran the plates of a vehicle in the area and found the registered owner was wanted on an outstanding warrant. The vehicle was pulled over and the driver was identified as the owner. The 71-year-old Newton man was arrested on the warrant from Gloucester District Court for leaving the scene of an accident involving property damage.
Feb. 5, 12:27 a.m.: An officer patrolling the Target parking lot after the store was closed spotted a vehicle parked in front of the store with its engine running. Police recognized the driver from prior incidents. The man said that he owned an auto shop and was driving a customer's car with repair plates on the vehicle. Police checked the man's license and found it was suspended. When officers took an inventory of the vehicle they found an open bag with a bottle filled with several different kinds of pills but had no label on it. They also found five packages of suboxone strips, and two ziploc bags with what is suspected to be crystal methamphetamine inside. Police also located an Amazon package from an address on Howard Street, but it was not addressed to the man. The 30-year-old Watertown man was arrested on charges of driving with a suspended license, four counts of possession of a Class B drug, one count of possession of a Class E drug and one count of receiving stolen property.
Feb. 8, 9:36 a.m.: A man was spotted yelling obscenities at the corner of Waverley Avenue and Downey Street. Police responded and when they approached the man he continue to curse and motion with clenched fists. Police spoke to him and discovered he had an arrest warrant. The 44-year-old Watertown man was arrested on the default warrant from Billerica District Court for assault and battery on someone over 60 and assault and battery with a dangerous weapon.
Feb. 8, 9:30 p.m.: A vehicle was pulled over on Bradshaw Street near Waverley Avenue with the motor running but the driver was unresponsive. Police banged on the window and the man's only response was to rev the motor. Officer were able to open the door and saw white powder under one of the man's nostrils. They also found a fully loaded syringe with an uncapped needle filled with what appeared to be heroin. Police also saw small baggies containing a tan powder, which they suspected to be heroin. The man admitted to consuming narcotics before driving. A search also found a bottle filled with pills for which he did not have a prescription, and five suboxone strips. The 38-year-old Dorchester man was arrested on charges of driving under the influence of drugs, driving with a revoked license, possession of a Class A drug, possession of a Class B drug and two counts of possession of a Class E drug.
Feb. 9, 3:33 a.m.: A man was found passed out behind the wheel of a vehicle on Taylor Street. Police attempted to check the driver's welfare by knocking on the window. After several attempts he woke up. Officers detected a strong odor of alcohol. The man failed four field sobriety tests. Police also found he did not have a driver's license. The 31-year-old Watertown man was arrested on charges of driving under the influence of alcohol and unlicensed driving.
Incidents
Feb. 6, 12:32 p.m.: A man reported that he had been the victim of a scam. He received an email at work saying he should purchase $3,000 in Google Play gift cards. He did so and sent the serial numbers for $1,500 of the gift cards to the person who sent the email. Then he realized his email had been compromised.
Feb. 8, 10:03 p.m.: A Desmond Avenue resident reported a suspected vehicle break-in. A purse that was on the floor of the back seat was taken. It contained credit cards which were used in different locations. Police are investigating. The vehicle had been left unlocked.
Also this week: