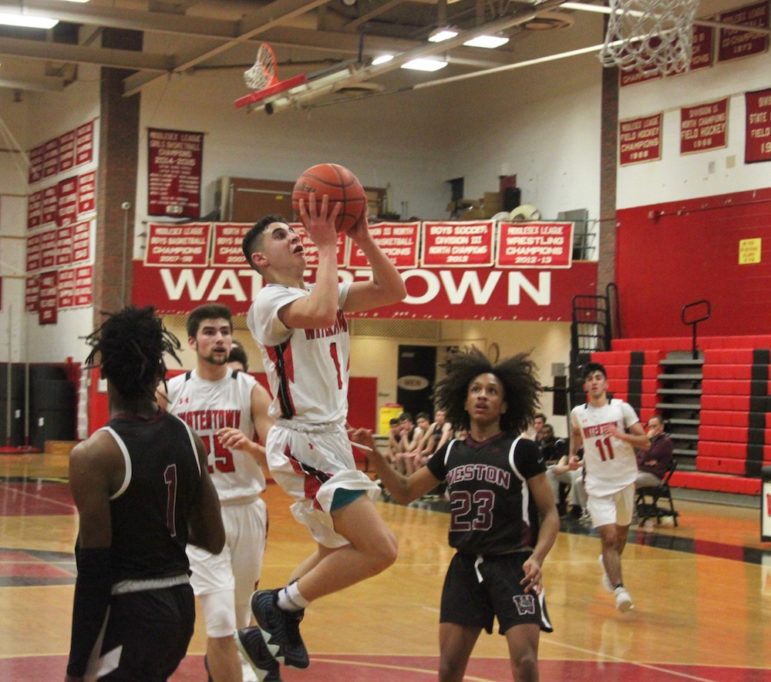 The Watertown High School boys basketball team showed heart and determination on Monday night, but the Raiders comeback attempt fell short in the MIAA Div. 3 North first round game against Weston.
The visitors from Weston led by more than 20 points in the third quarter, but the Raiders battled back to within six points with less than a minute left in the game, ultimately losing 58-50.
The Wildcats burst out of the gate with the help of freshman big man Sawyer Mayhugh, who scored nine first quarter points. He ended the night with 19.
The Raiders trailed 14-4 after the first. Weston senior Junior Uga took over the second quarter, at one point hitting three straight three pointers, and adding three more free throws after being fouled shooting a trey. Uga scored 14 of his 21 points in the second quarter. The Wildcats led at the half, 28-12.
The third quarter did not start much better for Watertown, which fell behind more than 20 points. Then the frantic comeback began, helped by the Raiders success behind the three-point arch. Sophomore guard Gabe Spinelli hit two, and senior guard Chris Iannetta and junior guard Gevork Karapetyan each made one. The third ended with Watertown down 42-28
In the fourth quarter, Spinelli led the frantic comeback, scoring 14 of his 29 points in the fourth quarter. He scored three more three pointers, hitting six overall. While the Raiders got close, they could not get over the hump. Weston made 9 of 10 free throws in the fourth quarter to win by eight.
Watertown senior forward Henry Papadapoulos scored seven points and sophomore Devon Breen added six.
A year after winning the state championship, the Raiders end their season with a record of 12-9. Weston, 11-10, moves on to face Pentucket.
Watertown junior Devon Breen drives the baseline against Weston.

Watertown senior Nick McDermott brings the ball up court in the Div. 3 North first ground game against Weston.

Watertown junior Gevork Karapetyan attempts a three pointer as Weston's Sawyer Mayhugh defends in the State Tournament game.

Watertown senior Chris Iannetta drives against Weston's Dana Williams in the State Tournament game.

Watertown sophomore Gabe Spinelli made six three pointers in the State Tournament loss against Weston.