Paul Gorman was one of the nine Watertown residents killed while serving in Vietnam, but he was the only one who does not have a memorial in his honor. That will soon change, after the Town Council approved creating a memorial square in his name.
His sister Bonnie attended Tuesday's Council meeting where the memorial on the corner of Main Street and Emerson Road was approved.
"This is a wonderful opportunity to honor Paul," Bonnie said. "Paul grew up on Emerson Road. It was the only house he lived in."
Losing Paul was a blow to the Gorman family, Bonnie said. When her mother heard the news she suffered a massive heart attack, and died just months later.
"It is a common thing in Gold Star Families," Bonnie said, referring to the name for families who have lost a family member serving in the military.
Bonnie, too, was in Vietnam, when she learned about her brother's death. She served as a Navy nurse, caring for wounded troops.
Friends Request Memorial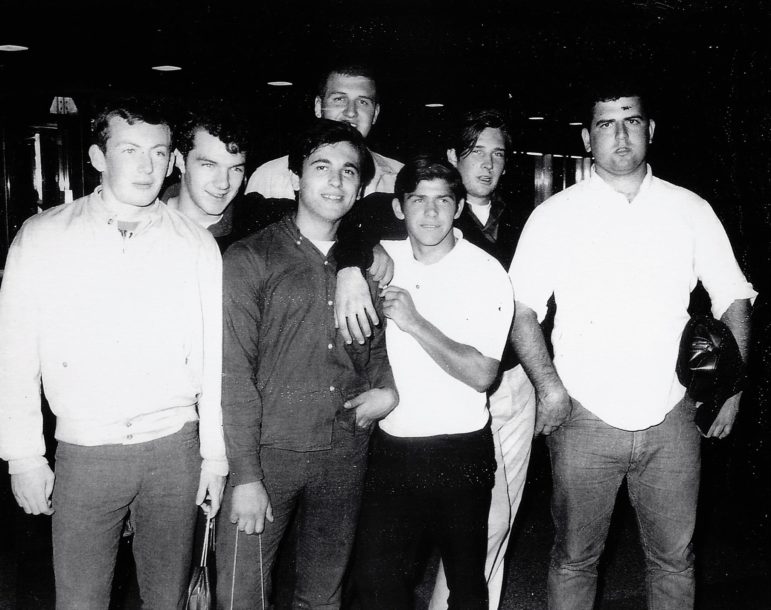 Two friends of Gorman, Joe Derian and Jim Prendergast, also attended Tuesday's meeting. They wanted to honor Gorman.
"He was the only guy who died in Vietnam who didn't have a memorial," said Derian.
The pair worked with Bonnie to ask Watertown Veterans Agent Patrick George for a memorial to be created for Gorman. The official request was made on May 1, 2019.
Gorman joined the Marines in June 1967, and headed for boot camp in September.
Prendergrast and Derian remember going on the same train as Gorman to boot camp at Parris Island, S.C. In fact, Prendergast said, there were 11 guys from Watertown who joined the Marines at the same time. He remembers that a Watertown newspaper took a photo of the group along with the Selectmen Chairman, Watertown's State Representatives and the Marine recruiter. He still has the photo.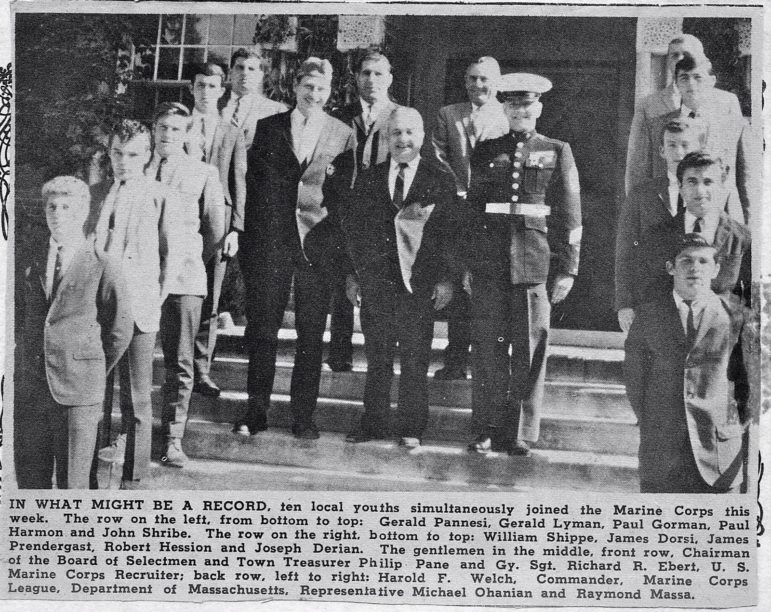 Prendergast recalled that 1968, the year of the Tet Offensive, was a bad one for Watertown's servicemen.
"Of the nine KIAs (killed in action) in Watertown, seven were in 1968," Prendergast said.
Private First Class Paul James Gorman began his tour on May 4, 1968. He trained as a mortarman and served with 3rd Marine Division, 2nd Battalion, 4th Marines, G Company.
"He died four days following his 20th birthday," George said.
Gorman was killed along with three other Marines while assaulting an enemy position in support of evacuating casualties in  Quang Tri province on July 30, 1968, said George in the request for the memorial. Gorman was awarded the Purple Heart.
He was brought home and buried in Ridgelawn Cemetery with his parents, Bonnie said.
A date has not been set for the dedication of the memorial, George said, but he said, "We will get it done as soon as we can."
The nine Watertown servicemen killed Vietnam are: Army Warrant Officer James Patrick Casey, Marine PFC Paul James Gorman, Army Cpl. Frederick E. Harrington Jr., Army PFC John Robert Johnson, Marine Sgt. John Herbert Moreno, Marine PFC Richard Stephen Moxley, Army Sgt. William Kenneth Regan, Army PFC John Joseph Sullivan, Army 1st Lt. Paul Joseph Sullivan.