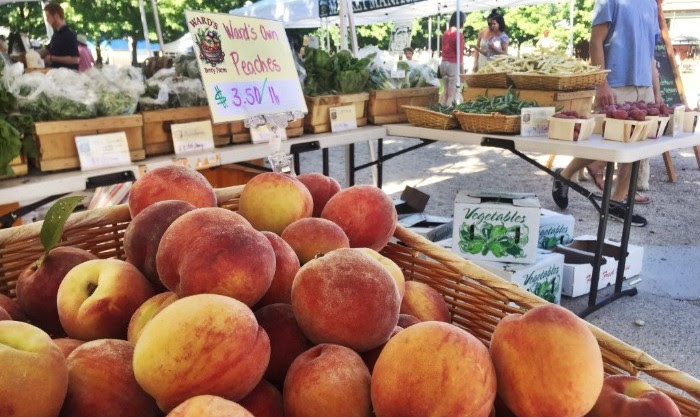 The Watertown Farmers Market will open for the season on June 12, and will be in a new spot, on a new day and have new vendors joining many of the favorites from prior years.
The market will now be held on Wednesdays at Saltonstall Park, next to Town Hall, 149 Main St., Watertown. The market runs June 12 to Oct. 9, rain or shine, from 2:30-6:30 p.m. (closing at 6 p.m. in October). New vendors include some new produce stands, a bakery and an ice cream maker.
The market will have a wide variety of vegetables and fruits from three produce vendors. Back from previous years is Ward's Berry Farm, from Sharon. There will also be two new additions: Dick's Market Gardens and Farmer Tim's Vegetables, said Stephanie Venizelos, Watertown's Community Wellness Program Manager who also manages the Farmers Market.
"The market will have a variety of farm vendors who can bring a wide variety of fruits and vegetables throughout the season," Venizelos said.
In addition, there will be more prepared food options during the Farmers Market, which could be useful for people going to the Watertown Summer Concerts. The concerts will also be on Wednesdays beginning June 26. (See the lineup here).
"People can grab a sandwich or pretzel and have something to eat at the concert," Venizelos said.
Returning on a regular basis will be Tex Mex Eats and Fournos Authentic Greek Pastries. Joining them each week will be Swissbäkers and Tipping Cow Ice Cream. Also, Quick Silver Baking Co. will be at the market every other week.
See more information about the new vendors below:
Dick's Market Garden is a second generation family farm from Lunenburg. Dick's grows over 70 varieties of fresh items throughout the season including fruits and vegetables, flowering annuals and perennials, and vegetable and herb plants.
Farmer Tim's Vegetables is a young farm business growing over 40 different varieties of vegetables, herbs, melons, and flowers. Farmer Tim's operates an on-site farm stand in Dudley and a weekly pop-up farm stand in Belmont.
Lauren and Susan started Quick Silver Baking Co. honoring their mom's favorite and special recipe: her Rugelach! Taking a twist on an old world favorite, they are proud to provide both sweet and savory rugelach ready to bake at home.
Swissbäkers is a family-owned bakery specializing in European breads, pastries, and sandwiches, using all fresh products. Their entire product line is produced in Allston, all handmade with no additives or artificial ingredients and baked fresh every morning.
Tipping Cow Ice Cream is back under new owners, Gerly and David bringing the flavors you know and love and plenty of new ones too! Tipping Cow is the only nut-free ice cream purveyor in New England.
Other guest vendors will make periodic appearances at the Farmers Market. See more information about the Watertown Farmers Market here.