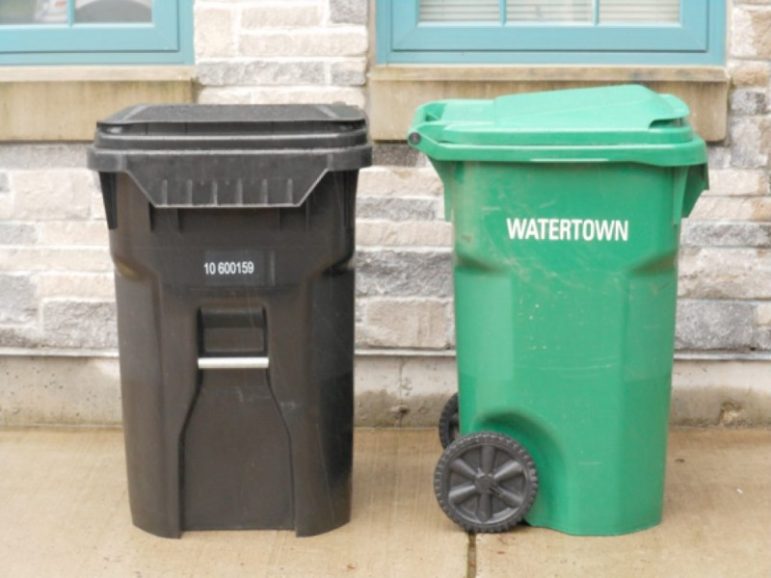 With the recycling world in flux, the Department of Public Works is trying to get Watertown to clean up its recycling in an effort to maintain service and keep prices down.
Jesse Myott, the DPW's director of Administration and Finance, said that the facilities that take the recyclable items from the United States have become more strict about what they will take. Loads with the wrong type of materials, or those that are dirty or soiled with trash are being rejected.
"Back in 2018 we saw significant change with regards to the global processing of recycling," Myott said.
Upwards of 40 percent of the recycling going to China got tainted or dirty, Myott said.
"(Recyclers in China) said you guys need to clean up your act, either stop it or we will raise ur prices," Myott said.
If Watertown does not clean up its recycling, the price may be paid when the Town goes for its next trash and recycling contract. The Town's contract runs for another two years, or so, Myott said.
"Until the contract is negotiated, we won't know exactly," Myott said. "It could result in either raising cost or decreasing service or a combination of the two."
When choosing a method of recycling, Watertown chose a single-stream recycling program, where all recyclables are put in the same bin.
"Single stream is convenient from the consumer side," Myotte said. "But now with pushback from the recycling facilities we need to be more careful about items in the recycling and makings sure they are able to be recycled and are appropriate."
Sometimes the distinction of items that can and cannot be recycled can be confusing.
"Why can't you recycle a Dunkin' Donuts cup. It seeks like it you should be able to recycle cups," Myott said.
The paper cups from Dunkin', and many other retailers, cannot be recycled because they have a waxy layer which is made of plastic. This prevents the paper in the cup from being broken down into pulp.
Some items that cannot be recycled paper towels, napkins, and styrofoam. It is not clear if other items, such as aluminum foil, are acceptable.
Often, the reason why an item should not be in the recycling is a lot more obvious, Myott said.
"Sometimes they are things that can be recycled but they are dirty," Myott said. "Like a half a jar of spaghetti sauce. It can contaminate the other items around it."
Another part of the effort to clean Watertown's recycling is refusing to pick up recycling. Residents may find a tag on their bin explaining the reason why it was not collected.
One of the more common reasons is people putting trash into the recycling bin.
"If you put trash in it, it will not only can contaminate that bin, but also the whole (truck) load," Myott said.
Myotte encouraged people to find out more about recycling. The town's trash and recycling contractor, Republic Services, put out a document showing some common items that can and cannot be recycled (click here to view it).
He added that sometimes items that had not previously been recyclable change status and will be picked up.
"Become an educated (recycler)," Myott said. "The state has some good resources online."
Find out more at these websites:
Watertown Department of Public Works
Massachusetts Department of Environmental Protection