Recently, Luke Black —a member of Watertown Boy Scout Troop 30 — reached an achievement that only a handful of boys reach in their time as scouts. He earned the rank of Eagle Scout.
On June 13, Luke Black received his Eagle pin from Scoutmaster Chris Derocher at a ceremony held at Watertown-Belmont United Methodist Church.
Eagle Scout is the highest achievement for members of the Boy Scouts of America, and only four percent of scouts have reached that rank since it started in 1912. Black joins previous Eagle Scouts, some of whom have gone on to even bigger things, including the first man on the moon Neil Armstrong, Oscar-winning film director Steven Spielberg and former New York Mayor Michael Bloomberg.
Black, who lives in Allston, joined Watertown's Troop 30 because there hasn't been a Boy Scout Troop there for many years.
"Watertown's Troop 30 was the next closest Troop.I had met some of the Scouts through my karate school in Watertown,so that's how I got involved with them," Black said. "Watertown is awesome like that."
During his time with Troop 30, Black has held positions of patrol leader and troop librarian, and has worked on projects focused on conservation, including building bat houses near his school.
Attaining the rank of Eagle Scout is a complicated process, but Black said he wanted to show his love for scouting.
"It's the highest Boy Scout rank and that's the goal of Boy Scouting: to get to Eagle," Black said. "I was motivated because I really enjoyed Scouting, the activities, the camping and the friends I was making.Making it to Eagle was a way I could show how much I cared about Scouting."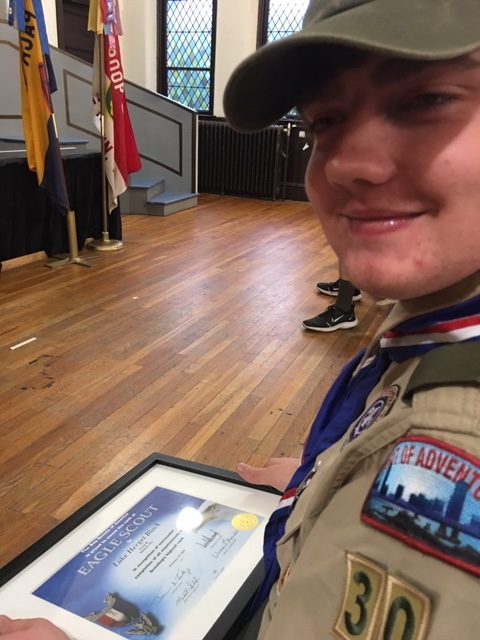 To become an Eagle Scout required Black to complete seven ranks, each one taking six months, or more, to complete. He learned skills such as camping, cooking, first aid, community service and conservation.
At the same time, he had to complete 21 merit badges. Some require a lot of work, for example, for hiking he had to complete four 10-mile hikes and a 20 mile hike, and forpersonal management he tracked his expenses and earnings for 13 weeks, Black said.
Then there is the Eagle project.
"My Eagle project alone took around 100 hours of time," said Black, who kept track of the hours.
After looking online for ideas, and investigating local organizations that may need help, Black learned about Charlesview,a nonprofit organization in his neighborhood with a community center and provides housing for low-income families.The group was founded by one of Black's former neighbors, Dr. Larry Fiorentino (also former Boy Scout of Troop 5 in Allston) and his mother, Mrs. Fiorentino (the Troop Leader).
Black met Jo-Ann Barbour, the Executive Director of Charlesview, who had an idea for him.
"I told her how much I liked bike riding around Allston and she told me they were in need of a bike rack at Charlesview," Black said. "Charlesview kids did not have a place to lock their bikes near their homes and as a result they were getting stolen."
Black raised $550 standing outside Star Market asking for donations, got a few donations from neighbors, and added some of the money he earned mowing lawns to pay for the bike rack.
"All totaled, it cost about $750," Black said. "And the Troop help me get it installed."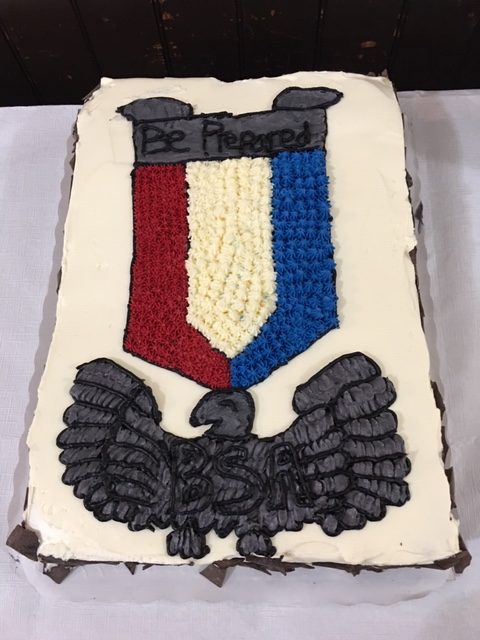 Getting his Eagle pin marked was kind of bittersweet for Black.
"It had been a lot of work and it marked the completion of almost a decade of scouting (Cub and Boy scouts)," Black said. "It was also a bit disappointing, because I had reached the end of a great experience. So I was proud, but also felt a sense of loss."
At the ceremony, Black also presented two awards: the parent pins, given to parents Lee and Mary Helen; and the mentor pin, which is presented to the adult who helped Luke on his scouting journey. Luke chose to give the awards to not one, but three mentors: Scoutmaster Chris Derocher, Assistant Scoutmaster Ian Clark, and former Scoutmaster Eric Cordeiro. 
The ceremony was attended by his parents, grandparents, fellow scouts and even public officials, including Town Council President Mark Sideris, who read a proclamation from the Town Council.
With his Scouting days behind him, Black, who will be a senior at The Winchendon School in the fall, will turn his attention to other things.
"Scouting took up a lot of time and I have a few other goals I need to complete before graduation, like getting my Black Belt in Karate," Black said. "I'm just starting to think about college, but I really hope to go somewhere to study History and Political Science and hopefully work in government someday."