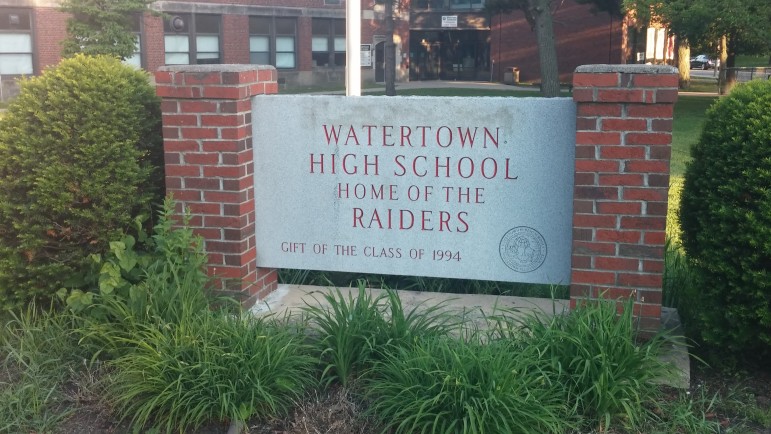 The search for the architecture firm that will design the new Watertown High School has begun, but they decision will not be completely up to local officials.
The project to rebuild or renovate WHS will be part of the Massachusetts School Building Authority process. Through the program, the town will receive significant reimbursement from the state (close to 50 percent) but the MSBA process is a very prescribed one.
Watertown has been accepted into the program and the next step is to select the firm for design services. The selection will be made by the MSBA's Design Panel, which is made up of 16 people.
The panel includes 13 members appointed by the MSBA, along with three representatives from Watertown. The three people representing Watertown are Superintendent Dede Galdston, Town Manager Michael Driscoll and Town Council President and School Committee member Mark Sideris.
Tim Bonfatti, of the district's Owner's Project Manager firm Compass, said that the permanent members of the MSBA Design Panel will listen to the opinions of the local representatives.
At the next Design Panel meeting, on Aug. 20, the proposals from design firms will be reviewed. If they decide to interview the short list, that will take place at the meeting on Sept. 17. The meetings are held at the MSBA Board Room at 40 Broad St., 5th Floor, in Boston. They are open to the public, but Bonfatti said that people in the audience are not allowed to speak during meetings.
The Design Panel will have several choices of architects, including one that is very familiar to Watertown. The architecture firms that submitted proposals to design the Watertown High School project are: Ai3 Architects, CBT, Drummey Rosane Anderson Architects, JCJ, Jonathan Levi Architects, Lavallee Brensinger Architects, Mount Vernon Group Architects, and Raymond Design Associates.
Ai3 Architects is designing the three elementary school projects in Watertown, which is nearing the end of the design phase.
Sideris told the School Committee that Watertown's representatives on the Design Panel can make a request to work with a particular firm.
School Building Committee member Kelly Kurlbaum recommended that Watertown not jump into anything too quickly.
"We are very happy with Ai3, but I recommend not just going straight to them (for the WHS project) and see what else is out there," Kurlbaum said. "Also, I have concerns about their office handling all this work."
The next School Building Committee meeting will be held Aug. 7 at 6 p.m. in Town Hall.