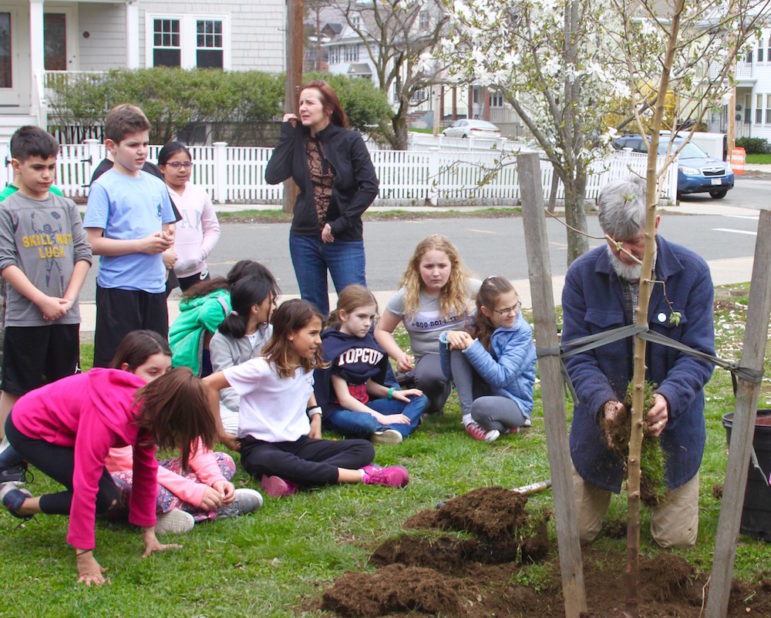 Hundreds of trees will be planted in Watertown each year as part of an effort to increase the number of street trees and tree canopy in town.
The Tree Planting Program calls for planting 2,500 trees over 10 years. It was discussed by the Town Council at its Aug. 13 meeting after being the subject of a couple of joint meetings for the Public Works and Rules & Ordinances committees.
The plan looks at how to prioritize planting of trees in neighborhoods with the least canopy. The subcommittee members also discussed how, if a homeowner does not want a tree in front of their home, it will not survive. The town will also seek ways to make homeowners aware of the tree-planting program and to request a tree.
Some of the 250 trees planted annually will be through Watertown Department of Public Works' Forestry Division, but relying on that will not meet the goal. The plans calls for non-municipal groups and people. Councilors wondered what are examples of a non-municipal group. Non-profit groups such as Trees for Watertown are one example, but another would be a developer planting trees as part of its landscaping plan.
Some of the trees planted by the Forestry Division will be in resident's front yards. Councilor Lisa Feltner questioned whether the town should be planting trees on private properties, such as people's front yards.
"The public trees planted on private property is no longer public after the first year," Feltner said.
She added that there was some concern expressed at the subcommittee meeting about public dollars being spent on trees being planted on private property.
Resident Michelle Cokonougher said she hoped to get a more clear picture of how the tree plantings will take place, but said the plan presented at the meeting did not have much detail. She noted that while the town hopes to find people who want a tree planted in front of their property, there is not outreach plan.
"I had hoped they would set the bar higher," Cokonougher said.
The Council approved Tree Warden Chris Hayward's Tree Management Plan (click here to view the plan, and minutes from the subcommitee meeting).
Also, the Council passed a motion to include a tree planting flyer in the packet sent to new residents along with the application for the residential property tax exemption.
Another part of the plan is to keep track of the tree canopy in Watertown. This includes both public street trees and those growing on private property.
Councilor Susan Falkoff said she was not sure how that would work.
"It confuses me. How do you keep track of whether I plant a tree in my backyard?" Falkoff said.
Town Council Vice President Vincent Piccirilli said the town uses computer software to monitor the amount of tree canopy coverage town and see how it changes from year to year, but it is more of a macro measurement.
"There is no way to track private trees," Piccirilli said. "The software can measure the tree canopy."