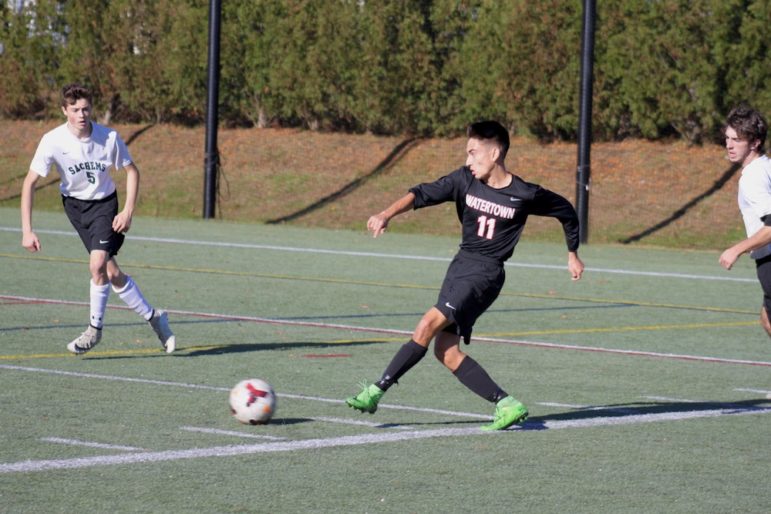 The Watertown High School soccer teams will soon kick off their season, and both the boys and girls teams will look to do even better that last year.
In 2018, the boys made the State Tournament but were knocked out in the sectional quarterfinal. Meanwhile, the girls are looking to make the tournament after missing out last season.
Boys Soccer
After several scrimmages, the boys soccer team will open against Boston Latin (at Millenium Park) on Sept. 2. The Raider open the home schedule against Arlington on Sept. 10, in the third game of the regular season.
The home schedule also includes Belmont on Oct. 4, along with Stoneham on Oct. 2 and the final home game on Oct. 23 against Wilmington. The Raiders will play six times under the lights at home. The regular season ends for the WHS boys at Stoneham on Oct. 25.
Girls Soccer
The girls start the 2019 season at home against Winchester on Sept. 5. The Belmont game will be an away night game on Oct. 4.
While most of the girls games take place on the Victory Field Oval (inside the track), the Raiders will play three games on the Victory Field Turf, the field used with the football team, among other teams. The three games include a morning match vs. Wakefield on Oct. 14, and two night games — Oct. 25 against Stoneham and Oct. 30 when Arlington Catholic visits in a non-league game. The AC game ends the WHS girls' regular season.
2019 Watertown Boys Soccer Schedule
(Home games are at the Victory Field Turf)
Aug. 24, 3 p.m. Away vs. TBA at Jamboree at Revere (Scrimmage)
Aug. 25, 5 p.m. Away vs. Revere at Jamboree (Scrimmage)
Aug. 27, 7 p.m. Home Alumni Scrimmage
Aug. 28, 3 p.m. Away vs. Waltham (Scrimmage)
Aug. 30, 10:30 a.m. Home vs. Cambridge Rindge & Latin (Scrimmage)
Aug. 31, 9 a.m. Home vs. Newton North (Scrimmage)
Sept. 2, 6 p.m. Away vs. Boston Latin (Millenium Park)
Sept. 5, 4:30 p.m. Away vs. Winchester
Sept. 10, 6:30 p.m. Home vs. Arlington
Sept. 12, 4:00 p.m. Away vs. Lexington
Sept. 18, 4:00 p.m. Home vs. Wakefield
Sept. 20, 6:30 p.m. Home vs. Melrose
Sept. 25, 4:00 p.m. Away vs. Burlington
Sept. 27 4:00 p.m. Away vs. Wilmington
Sept. 28, 6:00 p.m. Home vs. Boston Latin
Oct. 2, 7:00 p.m. Home vs. Stoneham
Oct. 4, 4:00 p.m. Home vs. Belmont
Oct. 7, 4:00 p.m. Away vs. Woburn
Oct. 10, 7:00 p.m. Home vs. Reading
Oct. 12, 4:00 p.m. Home vs. Burke
Oct. 14, 5:00 p.m. Away vs. Wakefield
Oct. 16, 4:00 p.m. Away vs. Melrose
Oct. 18, 7:00 p.m. Home vs. Burlington
Oct. 23, 6:30 p.m. Home vs. Wilmington
Oct. 25, 4:00 p.m. Away vs. Stoneham
2019 Watertown Girls Soccer Schedule
(Home games are at the Victory Field Oval, unless noted)
Aug. 30, 10 a.m., Home vs. Malden (Scrimmage)
Aug. 31, 10 a.m. Away vs Arlington Catholic (Scrimmage)
Sept. 5, 4:00 p.m. Home vs. Winchester
Sept. 10, 4:00 p.m. Away vs. Arlington
Sept. 12, 4:00 p.m. Home vs. Lexington
Sept. 18, 4:00 p.m. Away vs. Wakefield
Sept. 20, 4:00 p.m. Away vs. Melrose
Sept. 23, 4:00 p.m. Away vs. Mystic Valley Regional
Sept. 25, 4:00 p.m. Home vs. Burlington
Sept. 27 4:00 p.m. Home vs. Wilmington
Oct. 2, 4:00 p.m. Away vs. Stoneham
Oct. 4, 7:30 p.m. Away vs. Belmont
Oct. 7, 4:00 p.m. Home vs. Woburn
Oct. 10, 4:00 p.m. Away vs. Reading
Oct. 14, 10:00 a.m. Home vs. Wakefield (Victory Turf)
Oct. 16, 4:00 p.m. Home vs. Melrose
Oct. 18, 4:00 p.m. Away vs. Burlington
Oct. 23, 6:00 p.m. vs. Away Wilmington
Oct. 25, 6:30 p.m. Home vs. Stoneham (Victory Turf)
Oct. 30 6:30 p.m. Home vs. Arlington Catholic (Victory Turf)