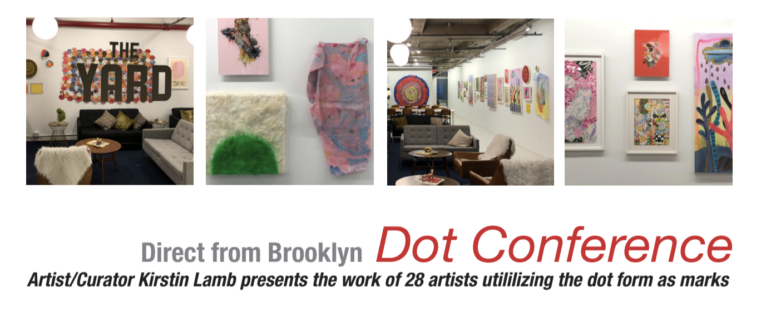 The following announcement was provided by the Room 83 Spring gallery:
Kirstin Lamb Curatorial, The Yard, Williamsburg, and Room, 83 Spring are pleased to present a 28 person show featuring artists utilizing dot forms as marks. Collectively this group forms a larger conversation around mark making and image-making.
Dot Conference
Sept. 7 – Oct. 26, 2019 at Room 83 Spring, 83 Spring St., Watertown
Opening Saturday Sept. 7, 2019 / 4-6 p.m.
Curated by Kirstin Lamb
Open Thursday and Saturday 1 – 4, and anytime by appointment
Room83spring@gmail.com
The dot is defined by the Oxford English Dictionary as "a round mark or small spot" but also "used to refer to an object because it is far away." Dot is alternatively defined as a verb "to mark with a small spot or spots," "be scattered over," "mark" or "hit." Dots are the literal vocabulary of much artwork, its consummate parts, and also a way of describing how the thing is made. Short, staccato, yet implying accumulation even if there is only one, a dot showcases repetition and a kind of community response to craft.
This show grew out of a conversation in Room 83 Spring. Artists Liza Bingham, Zehra Khan, Cathleen Daley and Kirstin Lamb started discussing the ways in which mark making, specifically the dot, spoke about our larger practices. In a moment when we can struggle to delineate ourselves as apart from one another aesthetically and struggle to define ourselves as a coalition politically, it felt comforting to agree upon this one basic, the dot as foundational building block – something to be accumulated and appreciated.
There is a kind of elemental quality to repeated mark and repeated touch. It is a to nod forbears in folk and aboriginal art, meditative or religious practice, and self taught and visionary work. The show references historic dotted works such as Impressionist Georges Seurat's visual displays, Larry Poons' gridded projectiles, the elegant repetition in the work of the Pattern and Decoration painters like Miriam Schapiro and Joyce Kozloff, and Roy Lichtenstein's Ben-day Pop icons among many others.
In all, the works gathered serve less as a polemic, but rather a gathering. Conference is used lightly in the title, to serve as a meeting of artists and a meeting of mark making, a kind of comparison and accumulation of approaches.
The artists featured in the exhibit are:
Eleanna Anagnos | Taleen Batalian | Amy Beecher | Eve Biddle | Liza Bingham | Emmy Bright | Jenny Brown | Cathleen Daley | Milisa Galazzi | Ghost of a Dream (Adam Eckstrom + Lauren Was) | Brooke Erin Goldstein
| Mark Hartshorn | Leslie Hirst | Holly Hughes | Will Hutnick | Sonja John | Zehra Khan | Kirstin Lamb | Heather McPherson | Elizabeth Michelman | Jennifer Liston Munson | Nadia Haji Omar | Barbara Owen | Jen Shepard
| L Smith | Brigitta Varadi | Joan Wyand