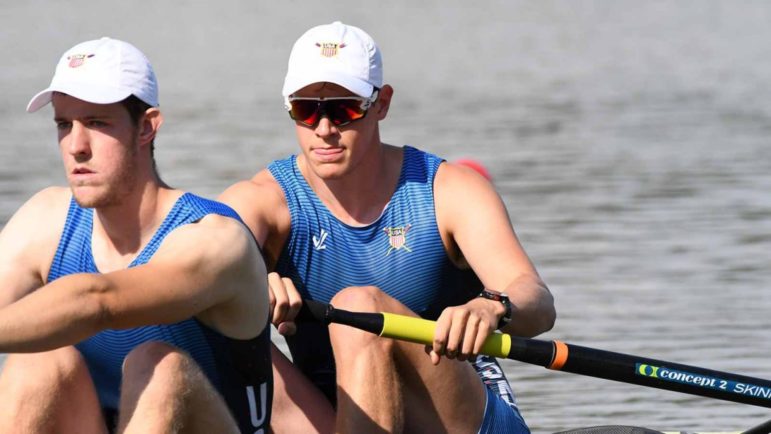 Watertown-native Alexander Richards rowed with the United States men's eights crew at the World Rowing Championships, and on Monday the team qualified for the 2020 Olympics.
Richards, who competed at Belmont Hill School and Harvard, rows in seat 5 of the eight man boat that competed in the World Championships in Linz, Austria. The final was held on Sunday, and the U.S. grabbed the last automatic qualifying spot by finishing fifth in the final, according to the U.S. Rowing report.
The team completed the 2000 meter course in 5:23.92, which was half a second ahead of New Zealand. Other members of the U.S. eights boat are: Julian Venonsky (Malvern, Pa.), Austin Hack (Old Lyme, Conn.), Ben Davison (Inverness, Fla.), Mike DiSanto (Boston, Mass.), Nick Mead (Strafford, Pa.), Conor Harrity (Weston, Mass.), Patrick Eble (Fort Washington, Pa.) and Alex Karwoski (Moultonborough, N.H.)
Germany won the gold medal in 5:19.41, the Netherlands got silver and Great Britain claimed the bronze. Watch a replay of the race by clicking here.
The U.S. team qualified for the finals in Austria by finishing second in their heat on Aug. 27 with a time of 5:26.41.
The Olympics will be held in Tokyo from July 24 to Aug. 9, 2020.