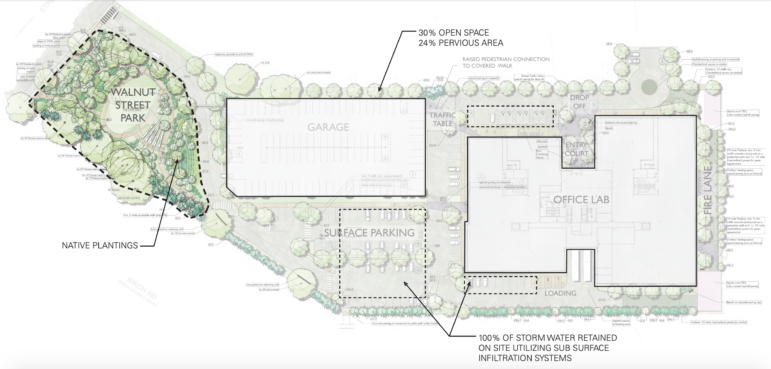 A new life science lab building and a park have been proposed to be built on the site of Doble Engineering in Watertown on Walnut Street. Developers will host a community meeting about the project on Sept. 16.
The proposed project is located at 85 Walnut Street and would be just east of the Gables apartment complex. The project also includes a parking garage on the site.
The park would go near Walnut Street, which is also an area adjacent to nearby homes. The lab/office building would be moved away from Walnut Street and toward Arsenal Street, thus would be farther from neighbors. Also, the parking garage would be built on the east side of the property, away from residential areas.
Drawings in the draft presentation for the project show a four story building.
Developers will host a meeting to discuss the project and get feedback. The community meeting is planned for Monday, Sept. 16 at 7 p.m. at Doble, 85 Walnut St., third floor.
See the documents submitted by developers to the Town about the proposed project by clicking here.
For questions or more information contact the owner, 10-85 Walnut Owner, LLC Matt Price at 617-532-7155.