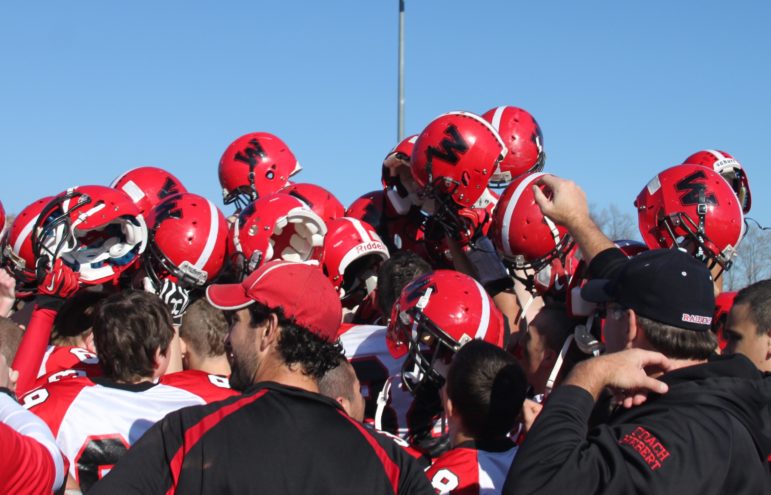 For the Watertown High football team in 2018, it is safe to say things did not go according to plan. Injuries to key players before the regular season even started set the tone for a year that led to a final record of 4-7.
The 2018 season saw the end of many streaks the Raiders were accustomed to extending such as beating Belmont on Thanksgiving (five years in a row), making the playoffs (five straight seasons) and finishing with a winning record (nine straight years).
All those streaks will have to start over in 2019.
"Yes, what happened last year is definitely motivating the boys right now," Watertown head football coach John Cacace said. "Injuries were a big part of it for sure but we also didn't execute as well as we should have and that led to a very difficult season. The boys who were here certainly don't want to go through another season like that again."
Getting back on the winning track, however, won't be easy. Not only is that a given playing in the Middlesex League but the Raiders also only have nine seniors on their roster.
One of them, however, is hoping to lead the team in the right direction as the starting quarterback. Brendan Cook, who started as a wide receiver as a junior, will now be asked to play the most important position on the field one year later. Cook did, though, see some snaps in previous seasons and Cacace is confident that Cook can more than hold his own.
"He's an athlete," Cacace said of his quarterback who also plays varsity baseball and basketball. "He has got speed and has a good arm and has looked very good in practice. He has all the athletic ability and right now we are working on expanding his ability to read coverages."
Cacace also stated the offense is a little further ahead of the game than it was this time last year when an overhaul of adjustments had to be made when they lost John Korte (single season record holder of receiving yards in 2017) to graduation.
This fall the Raiders bring back a strong running attack that got a lot of experience a season ago. An injury to senior Mange Camara hurt the team but it did give some younger guys more carries that should bode well in 2019. One of those guys is junior Dave Manoukian, who at just 5'5″ impressed with his tough running skills as a sophomore while senior Karim Manoukian also got a lot of carries and got better with each game.
Another offensively skilled player who saw a lot of action as a freshman was running back Mason Andrade. As a ninth grader Andrade not only ran the ball well but made a lot of catches out of the backfield and was a solid two-way threat.
"We should be able to have success on the ground with these guys," Cacace said.
Defensively Cacace is sticking to the same defensive schemes and says it is
looking good in the preseason. The kicking game, however, is still being experimented with. They are still searching for the most consistent field goal kicker but right now it looks like sophomore Rio Maguire will handle the majority of the kicks.
"Like we always do we will give it our best," Cacace said. "It's tough being one of the smallest if not the smallest teams in the Middlesex League without a lot of seniors. We play in a league where all five teams are good, tough, and physical so nothing is ever easy."
When you play in this league committment is essential for success and the head coach was very pleased to see the shape his kids were in when the pre-season opened up.
"A lot of our kids looked prepared and ready to go,"Cacace said. "It tells me they worked very hard in the off-season and want to improve on what happened last year."
The Raiders hope to kick off the year on the right foot when they host the Arlington Catholic Cougars on Friday, Sept. 13 at Victory Field. Last year AC gave the Raiders all they could handle in a very close game in which Watertown prevailed.
Cacace is anticipating another tough battle when they gather in the season opener.
"They are an improving program with a lot of talent," he said. "They like to spread the field and can do it successfully with their skilled players. This will be veryZ challenging for us."