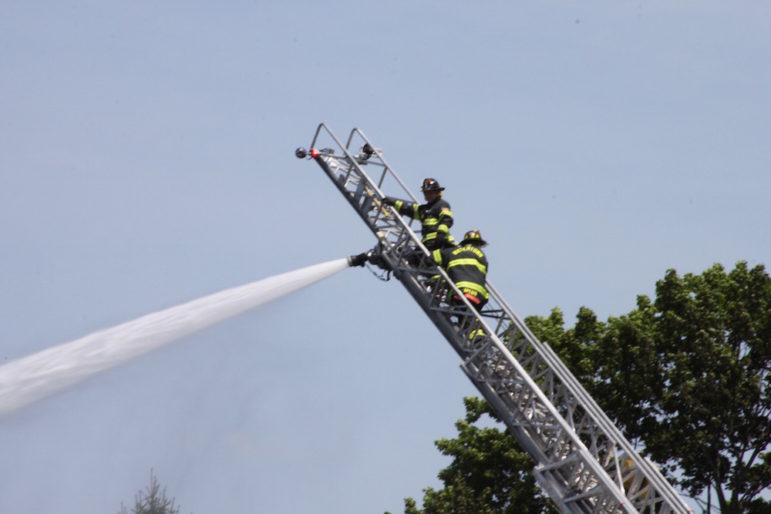 The Town Council approved a purchase that Watertown Fire Chief Bob Quinn hopes will keep members of the Fire Department healthy and safe.
Tuesday night, the Council approved $176,000 to be spent on a second set of turnout gear for the Watertown Fire Department.
"Cancer is a significant concern for firefighters, and by adding a second set of turnout gear it helps create a healthier, safer environment for members of the Watertown Fire Department," Quinn said.
When firefighters go into a fire, Quinn said, toxins get into the coats, pants and other gear. Currently, they must keep wearing the gear the rest of the shift, and firefighters can be exposed to the hazardous chemicals that leech out of the gear and into their skin.
With the new gear, firefighters can put the contaminated gear into the washers, dryers and extractors to clean them.
Having a second set of turnout gear is becoming a standard practice among fire departments, Quinn said.
Town Councilor Susan Falkoff commended Quinn for being proactive.
"I am very appreciative of the way you prioritize firefighter safety," Falkoff said.
The price of the gear is $276,000, said Town Manager Michael Driscoll, but Watertown's delegation in the State Legislature got $100,000 put into the state budget to help offset some of the cost. The rest of the money will come from money left over from the North Fire Station Improvement Project, Driscoll said.
It will take about two months for the gear to be manufactured, Quinn said.
New Vehicle
The turnout gear was not the only purchase for the Fire Department approved by the Council. The Fire Department will also be getting a new ladder truck. The Council approved $1.1 million for a platform truck with a 95-foot ladder on it to replace a 2005 model truck, Quinn said.
Quinn added that the national fire department standards recommend that fire vehicles over 15 years be removed from front-line service. Firefighters will be able to use new features of the truck that the 2005 truck does not have.
While the 2005 truck is not yet 15 years old, Quinn said the wait time for a ladder truck is about 13 months. The old truck will be traded in. He also noted that the current ladder truck has required a significant amount of maintenance over the past three years.
The money will be paid back over 15 years, Driscoll said. See more information about the ladder truck by clicking here.