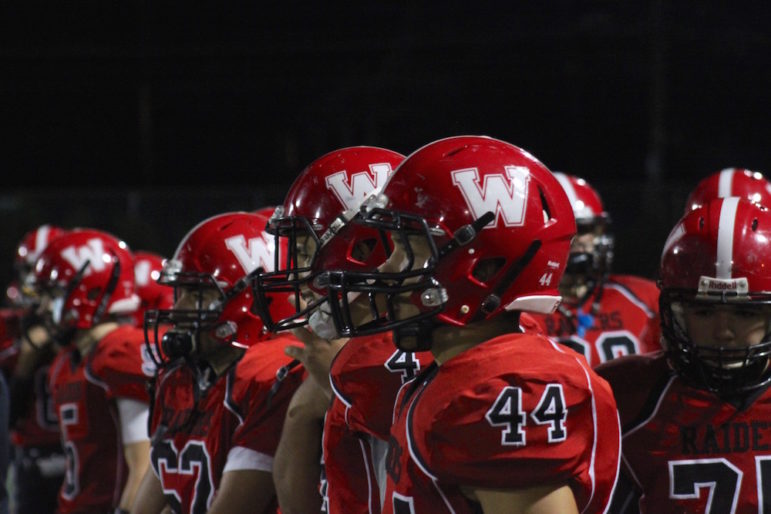 The Watertown High football team opened up its season in grand style with a convincing 43-6 win over Arlington Catholic Friday night at Victory Field.
The Raiders, who are hoping to rebound from a disappointing 4-7 season a year ago, showed early indications that they are on their way of doing just that.
"A lot of our younger guys got a lot of experience last year and you saw some of that development in this game," Watertown head coach John Cacace said. "Overall I thought the team played a very solid, physical game. It was a very nice way to start the season."
On the game's very first play the Raiders got the fans on their feet when sophomore Mason Andrade (three touchdowns) took the opening kickoff 90 yards for a touchdown leading to a 7-0 lead.
Turns out that was all the points Watertown would need but the locals were far from done denting the scoreboard.
"When you have multiple backs (Andrade and junior Dave Manoukian) that can run the ball well it can really spark an offense," Cacace said. "We had a lot of success on the ground."
Before the first quarter came to a close, senior running back Karim Monroe was on the receiving end of a 16-yard touchdown pass from senior quarterback Brennan Cook which gave Watertown a 14-0 advantage. For Cook, it was the first of multiple touchdown passes he would throw in his debut as the starting quarterback.
"The pass to Karim was outstanding," Cacace said. "He threw the ball well all night but I was really impressed with his composure."
The offense kept coming. After Monroe picked off a pass from Cougar junior quarterback Paul Hammond at the Raider 42, Andrade found the end zone again four plays later when he rumbled in from 32 yards out to put Watertown up 21-0 with 10:28 (off-season rule change to 12 minute quarters) still to go before halftime.
Andrade would keep torturing the AC defense four minutes later with another brilliant touchdown run. This one came from 37 yards out. An indication of how good things were going in the first half came on the very next play when a bad snap turned into a successful two point conversion when sophomore placekick holder Colin Campbell improvised wisely and found Monroe in the end zone to make the score 29-0.
The Cougars got on the scoreboard for the only time in the game on a 3- yard run by Hammond after a 75-yard completion to sophomore Terry Cousin set up the score. However, that would end up being the only time the Raider defense budged.
"Our defensive played exceptional," Cacace said. "Even on the long pass leading up to their touchdown our coverage was very good. The defensive line was especially impressive with their gap discipline."
Later in the quarter with Watertown facing a 3rd and 17 at their own 35-yard line, Cook found junior receiver Will Dolan in the flat. The play looked like it would only go for six yards when four Cougars immediately surrounded him after the catch.
Dolan, though, was able to spin his way out of trouble and head down the sideline for yet another Watertown touchdown. WCA-TV (Watertown Cable Access Television) clearly showed Dolan was stripped of the ball before the goal-line and the play should have resulted in a touchback. However, that didn't change what a sensational individual effort that was.
"I was thinking that it was just a nice play to give us some more breathing room to punt," Cacace said of the 65 yard touchdown reception. "I was amazed to see what he did there to make all those defenders miss."
Another successful two point conversion following Dolan's score made it a 37-6 lead at halftime. The only score after the intermission came on a 22-yard run from Raider sophomore Nathan Master with a minute left in the game to provide the final tally.
In all the Raiders rushed for nearly 300 yards thanks to some great running and also some great blocking.
"The offensive line was a big key to the win," Cacace said. "They created a ton of space and got our running backs into their secondary." Watertown will take their 1-0 record into Cambridge next week when they face the Falcons. "They have got some exceptional speed with some great athletes," Cacace said. "We have to contain their athletes to have success in that game."
Next week, Watertown (1-0) will play Cambridge Rindge & Latin at Russell Field, Friday at 7 p.m. Cambridge dropped its opener to Arlington 48-18.