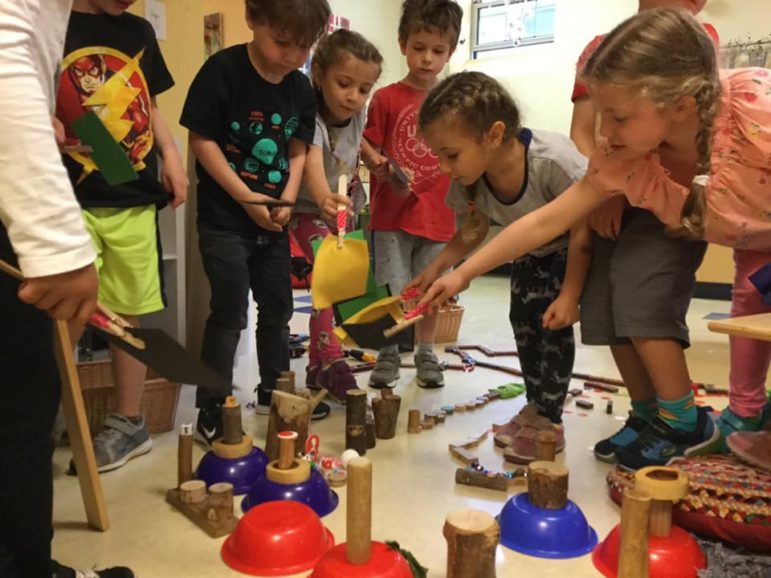 The Museum of Science has teamed up with Watertown-based Bright Horizons to get young children at their centers excited about engineering and science.
Using the museum's EiE Wee Engineer program, Bright Horizons curriculum encourages children to be creative and innovative as they participate in hands-on challenges designed to nurture their love ofSTEM(science, technology, engineering and math) and demonstrate that there is more than one way to solve a problem, according to Rachel Robertson, Vice President, Education & Development at Bright Horizons.
"As a Watertown-based organization, we're very familiar with the Museum of Science and the high caliber educational programming it offers, both in the museum and through its work in schools across the region," Robertson said. "At Bright Horizons, we're always looking at new and innovative approaches that not only prepare our students for elementary school, but also lay the foundation for a lifelong love of learning. When we learned of the Museum of Science Wee Engineer program, we were thrilled to be able to incorporate the unique and engaging challenges into our research-based curriculum."
The Wee Engineer challenges are hands-on activities that teach students that "there is more than one way to solve a problem, and that it's OK to fail and try again," Robertson said. Each of the challenges have of three elements:
Explore: Challenge introduction, children can explore the available materials and begin to imagine how to tackle the challenge
Create and improve: Make the first design, test it and make improvements
Reflect: Use what they found out about their design to make a recommendation about the best materials
"An example of one of the challenges we leverage at Bright Horizons is a noisemaker activity. The children are provided with a variety of materials and asked to make the loudest noisemaker they can," Robertson said. "Once they've created it, they measure the noise on a scale and make necessary adjustments to increase the noise level."
Robertson added that exposing children to those subjects before they get to elementary school can be beneficial.
"Anyone, even a very young child, has the ability to think like an engineer or a scientist," she said. "With age-appropriate and fun STEM activities, brought to us by the Museum of Science, we're able to help our students develop social, emotional, fine motor, cognitive, and language skills that will serve them in future schooling."
Bright Horizons offers the Wee Engineers challenges in its centers across Massachusetts, Robertson said.