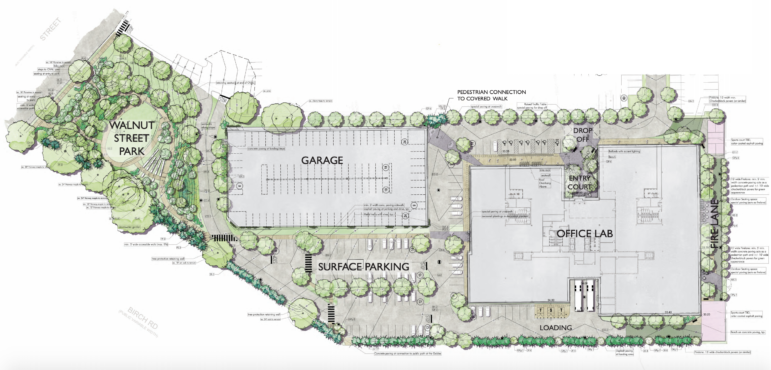 The second Community Meeting will be held for a project proposed on Walnut Street, which would create space for a life science building, a garage and a public park.
The project would redevelop the former Doble Engineering site, 85 Walnut St., and put up a four story, 213,500 sq. ft. building along with 552 parking spaces. A four level garage would have 455 spaces.
The first community meeting was held on Sept. 16. The most recent documents submitted to the Watertown Planning Department includes traffic studies and a traffic impact report.
The traffic analysis reports the project will have a total of more than 2,200 trips a day (a vehicle entering and exiting equals two trips), with 227 trips in the morning peak hour and 234 in the evening peak hour. Those numbers would be 117 more trips in the morning peak hour and 132 more in the evening peak hour than when the office building on the site was occupied, according to the study.
In the report, traffic would enter and leave through driveways on both Walnut Street and a shared driveway with the 101 Arsenal St. property. According to the study, 55 percent of vehicles would use the Arsenal Street driveway and 45 percent the one on Walnut Street.
The Watertown Planning Department sent out the following announcement:
Community Meeting Notice: Please join 10-85 Walnut Owner, LLC, for a second community meeting for the redevelopment of the Doble Engineering Building and site located at 85 Walnut St. in Watertown, Mass. The proposed development includes a commercial building, a parking structure and a large public park amenity.
DATE:       Wednesday, Oct. 30, 2019 
TIME:        7:30 p.m.          
PLACE:     85 Walnut St., Third Floor, Watertown, MA 02472
Project Materials:https://www.watertown-ma.gov/DocumentCenter/Index/1739
For more information contact: 10-85 Walnut Owner, LLC Matt Price (617) 532-7155