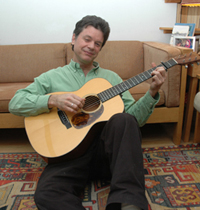 On Saturday, Nov. 2, Eric Kilburn will have a CD release performance as part of the Tremedal Concerts.
Kilburn is known for his Wellspring Sound facility, one of the finest and best equipped in New England, and he also is an accomplished mandolin player. He has played withSwing Cafe, Meeting Across the Water, Deborah Silverstein and the Band of Erics, along with hits guest soloist appearances.
In addition, Kilburn is a songwriter, and his latest work will be performed in Watertown. Fellow musician Dean Stevens described Kilburn's music: "Eric explores the human drama of family, home and growing up, atonement, forgiveness and struggle,"
The concert will be at First Parish Unitarian Church, 35 Church St., Watertown, at 8 p.m. Tickets cost $20, and are available by clicking here.
The Tremedal Concerts benefit the Watertown-El Salvador Sister City Project. Proceeds after expenses support the sister community of Nueva Esperanza, El Salvador, and regional projects in Chalatenango Province.
Find out more about the Tremedal Concert series by clicking here, tremedal.org