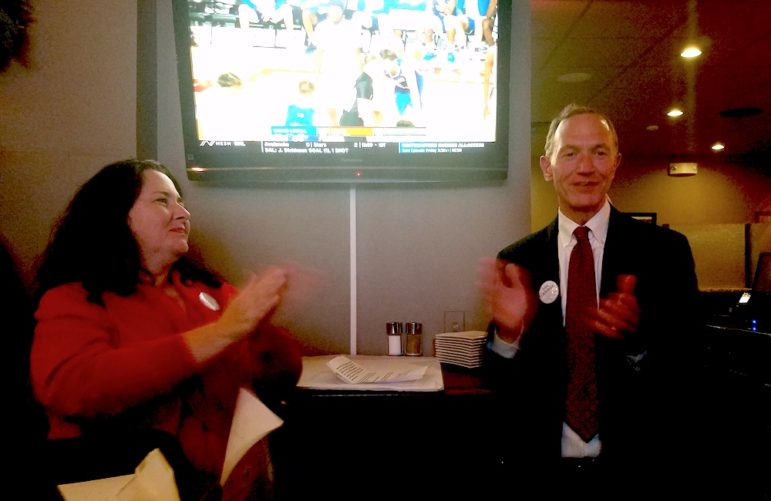 Watertown voters returned the three incumbent Councilors At-Large to the Town Council during Tuesday's Town Election, and newcomer John Gannon took the fourth seat. The race was the lone contested one on the 2019 ballot.
With results from all 12 precincts in, Anthony Donato had the most votes, with 2,657, narrowly ahead of Tony Palomba's 2,556. In third place was Caroline Bays, who received 2,355 votes, and Gannon took fourth with 2,170.
Former Councilor and Council President Clyde Younger came in fifth, with 1,126 votes, followed by Jimmy Mello, 1,100 votes, and Michelle Cokonougher, 898 votes.
Gannon spoke to his supporters at The Talk restaurant after hearing the preliminary results. He thanked his teachers who helped inspire him to pursue his interest in history and politics, which led him to become a lawyer who works for cities and towns in Massachusetts.
The success of his campaign, he said, was due to work of his volunteers, and himself just getting word out.
"I knocked on hundreds of doors. I went to the parts of Watertown I grew up in. I went to parts of Watertown that no body knew me," Gannon said. "I worked hard."
For the second election in a row, Donato received the most votes in the Councilor At-Large race, which are voted upon by all 12 precincts. He hoped that his work on the Council would earn him re-election, but Donato said he was not sure he would top the list again.
"It's great, I'm not going to lie, it's a great thing to come in first. But, honestly, for me it was just about getting elected," Donato said. "We're doing some great things in town and I just want to continue with the work."
Donato said he believes Watertown residents liked his style as a Councilor.
"(Before I was elected two years ago) people maybe didn't know what to expect —people who didn't know me before," Donato said. "I think I surprised a lot of people with my work ethic and how open I am to listening to everyone's input and ideas before making a decision."
Also elected in uncontested races on Tuesday were Town Council President Mark Sideris, 3,216 votes, and District Councilors (3 precincts each) Angeline Kounelis (639 votes), Lisa Feltner (871), Vincent Piccirilli (944) and Kenneth Woodland (726).
On the School Committee, Lindsay Mosca (2,603 votes) and Kendra Foley (2,693) returned to the board, and David Stokes (2,355) was elected for the first time. There were three people running for the three seats.
The situation for the Library Board of Trustees was similar: three candidates for three spots. Sheppard Ferguson (2,560) returns to the Trustees, and two newcomers were elected, Teddy Kokoros (2,350) and Mara Dolan (2,547).