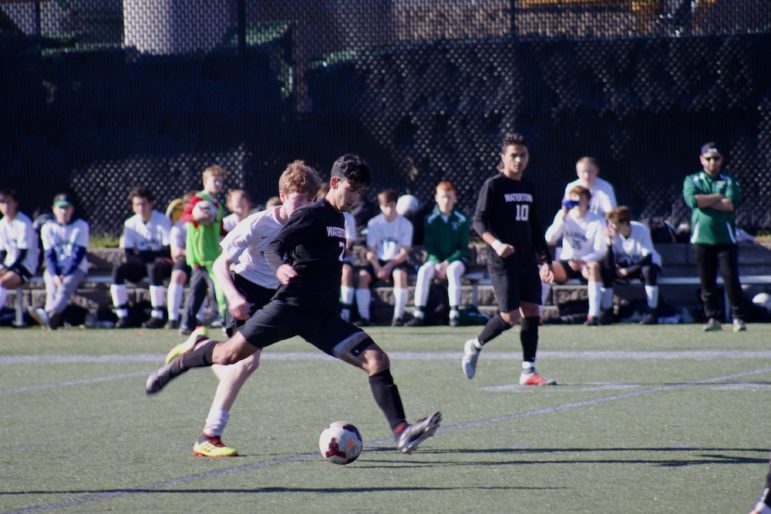 The Watertown boys soccer team came from behind to defeat Weston in overtime in the first round of the Div. 3 North Section tournament on Monday night.
The third-seeded Raiders went up in the first half 1-0, but the visitors tied the game with two minutes left in the first half.
Weston, the 14th seed, took a second half lead, but Watertown fought back to tie the score with five minutes left in regulation. The winning goal came in overtime.
The Raiders (13-4-2) will be back at Victory Field on Wednesday, Nov. 6 at 7 p.m. when it hosts sixth seed Dracut (13-8) which defeated Melrose 2-0 in the first round.
Football Team Returns Home After Win
Watertown High School's football team earned a 21-19 win at Triton on Friday night in matchup of non-playoff teams. The win was the third of the season for Watertown, and ended a five-game skid.
Running back David Manoukian ran for one touchdown and caught a second from quarterback Brennan Cook. And Cook threw a second scoring strike to Mason Andrade.
On Friday, Nov. 8, the Raiders will host Hamilton-Wenham at 7 p.m. at Victory Field.
Field Hockey Game Moved
The Raiders' field hockey game returns to action on Wednesday night at 7 p.m. against Lynnfield at Burlington High School. The Div. 2 North Section semifinal game was moved from Lynnfield.