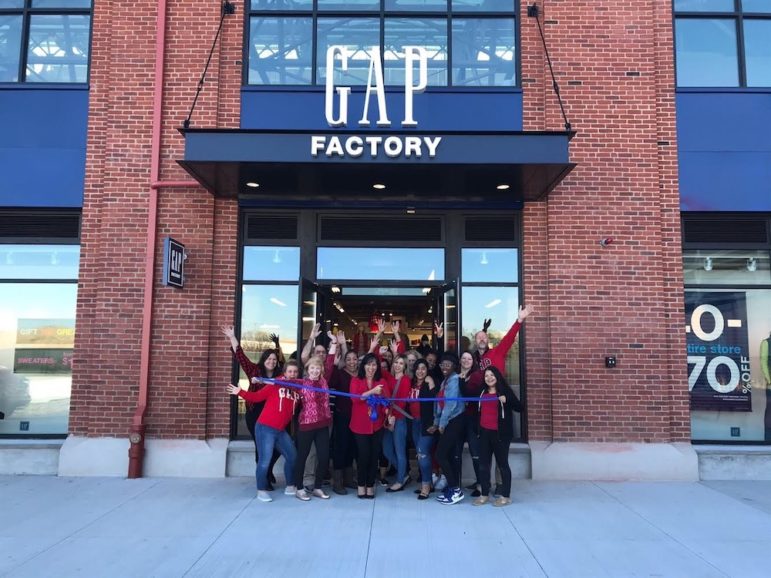 The Gap Factory store officially opened for business in Watertown on Wednesday morning. It is the first new store to open, or in this case, re-open, at Arsenal Yards.
The Gap Factory had been one of the tenants of the old Arsenal Mall. The store joins Marshalls, which remained open during construction, as places available for shoppers to visit in the redevelopment of the old mall. Other stores and restaurants will soon join them.
Expected to open in November are Shake Shack, Chipotle and Old Navy, according to Katie Sullivan of Boylston Properties, developers of Arsenal Yards. The later two were also part of the old mall, but the burger chain is a new addition.
Meanwhile, work is underway on the new cinemas, The Majestic 7, and City Works Eatery and Pour House in the other historic building, closer to Arsenal Street.
The Gap's new location is just to the left of Marshalls, in what is one of the historic buildings from when the site was part of the U.S. Army's Arsenal. The store opens onto the sidewalk in front of the long brick building. Chipotle is on the ground floor of the building which includes the parking garage, while Old Navy and Shake Shack are in the same building as Marshalls and The Gap.
Shoppers can park in the new parking garage that has gone up in front of the historic building.