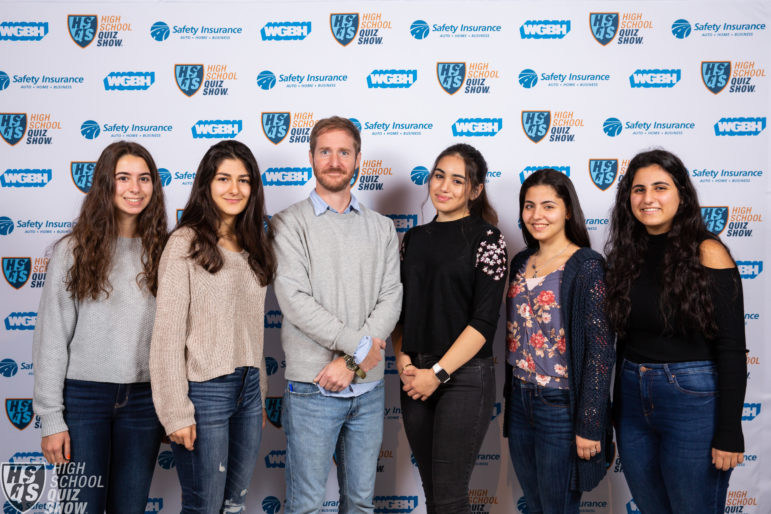 A group of Watertown High School students recently competed at WGBH's studio to be part of the High School Quiz Show. WGBH provide the following information:
On Sunday, Oct. 20, Watertown High School visited WGBH's Brighton studios to participate in Super Sunday, the qualification round of WGBH's High School Quiz Show. High School Quiz Show is a televised quiz competition between Massachusetts high school students entering its 11th season of broadcast on WGBH.
On Super Sunday, student teams come to the studio to take a 45-minute quiz with hopes of placing on to the broadcast. This season, the top 14 scoring teams automatically advance to the broadcast. In addition, eight teams were selected to vie for an additional spot by competing in a live event High School Quiz Show: Extra Credit, hosted by author Jeff Kinney at his Plainville, MA bookstore, An Unlikely Story, on Sunday, Oct. 27.
The final spot will be filled during High School Quiz Show's Season 11 premiere on Saturday, February 1 at 6 pm on WGBH, in a head-to-head wild card match-up between the highest scoring teams from Super Sunday that have not been on the show in at least five seasons.
Watertown was not one of the teams to make it on to the live shows, and WGBH does not provide the names of students.
Among the top 15 schools is last year's defending champion, Boston Latin School. And three schools are competing for the first time — Salem Academy Charter School, Taunton High School and Waltham High School.
The schools that will compete for the state championship title are:
Acton-Boxborough Regional High School
Andover High School
Arlington High School
Belmont High School
Boston Latin School
Brookline High School
Lexington High School
Mansfield High School
Needham High School
Salem Academy Charter School
South High Community School (Worcester)
Taunton High School
Waltham High School
Wellesley High School
Whitman-Hanson Regional High School
The Wildcard match will feature newcomers Tantasqua Regional High School from Fiskdale, MA, taking on Weston High School. The wildcard involves the top two highest scoring teams outside of the top 14 from Super Sunday that have not participated in the High School Quiz Show broadcast competition, or have not been on the show in the past five years. Weston High School last appeared in Season 3. The winner of their match, which will air on the February 1 season premiere, determines the final spot in the tournament bracket.
High School Quiz Show begins taping at WGBH in January in front of a studio audience. It will premiere Saturday, Feb. 1 at 6 p.m. on WGBH 2.  Episodes can also be streamed at WGBH.org and on YouTube.